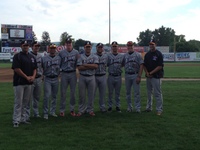 A group of seven proudly represented the Albany Dutchmen in the 2014 PGCBL All-Star Game and Home Run Derby, and helped the East squad claim a 3-1 victory over the West in front of 4289 fans at Dunn Field in Elmira. Dutchmen hitters drove in two of the three runs for the East All-Stars, including what would prove to be the game-winning run.
The East has defeated the West all three times the game has matched up the two leagues.
Before the game, Nick Jewett (Trinity University) stepped to the plate in the PGCBL Home Run Derby. The first baseman was able to hit a ball over the left field wall with eight outs in his Derby at-bat, amassing one home run to finish third in the East Division. Elmira's Zac Bellinger (St. Rose) won the event, defeating Adirondack's Mark Williams (La Salle) in the finals.
Demetrius Webb (Indiana) and Cameron Miller (Baylor) were honored with starting duties for the East. Webb started behind the plate, and Miller began the game at first base.
The pair got in on the action in the second inning, beginning the East scoring. Miller drew a walk to begin the inning, and had advanced to third base with one out. Webb then grounded out to bring Miller home and give the East a 1-0 lead.
Austin Foote (Indiana), who replaced Drew Tolson (Baylor) on the active All-Star roster due to Tolson's start on Monday, did not allow a hit and recorded a strikeout in the second inning of the game. A run scored due to two East errors, but Foote struck out the final hitter of the inning to end the frame on a high note.
Sean Aspinall (Azusa Pacific) entered the game in the bottom of the fifth, and made an impact for the East. In his second at-bat, in the seventh inning, Aspinall was hit by a pitch with the bases loaded, driving in what proved to be the winning run. Aspinall would also make a diving catch in center field to preserve a no-hitter that lasted into the eighth inning.
Kyle Zurak (Radford) recorded the first two outs of the eighth inning, including a strikeout to end his outing, which helped the East All-Stars work out of a bases loaded jam.
The East All-Stars worked a scoreless ninth to claim the 3-1 win. The winning pitcher and game MVP was Mohawk Valley's Kevin Cowan (William Paterson).