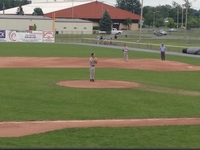 The Albany Dutchmen came up with a big road win on Sunday, using timely hitting and stellar pitching to claim a 3-1 victory over the Watertown Rams at Duffy Fairgrounds. The win split the season series with the Rams, as each team won both games at the other's park.
The Dutchmen found themselves in a 1-0 hole through one inning of play, as the Rams scored the game's opening run. Santino Alteri (Alvernia) drilled a triple with one out in the inning, and a single from Nick Moore (Missouri) brought him in to score.
The one run would be the last surrendered by Albany starter Drew Tolson (Baylor). Tolson worked seven innings, allowing just the one first inning run with seven strikeouts, including striking out the side in the seventh. He picked up his third win of the season.
The 1-0 lead was held by Watertown until the top of the fifth inning. Justin Brock (Franklin Pierce) drew a walk with one out, and advanced to third on a stolen base and a wild pitch. The game was then tied by Danny Hrbek (Radford), who clubbed a high chopper over the head of the first baseman for a double.
Albany took the lead in the sixth inning, which began with a double from Adam Lee (Lipscomb). Lee's double was immediately followed by a Sean Aspinall (Azusa Pacific) single to put the Dutchmen ahead, 2-1.
An insurance run was plated in the top of the eighth inning by the Dutchmen. Lee began the inning with a walk, and moved to second base on an Aspinall sacrifice bunt. The run scored off the bat of Nick Jewett (Trinity University) as the Rams committed a pair of errors on the play.
The Dutchmen battled out of a jam in the bottom of the eighth inning to maintain the two-run advantage. The first two runners reached base, which brought Dylan McGee (Trinity University) to the mound. Watertown's Moore clubbed a sharp grounder to short, but an attempt from Robbie Alessandrine to score was cut down on a throw from Ernie Clement (Virginia). McGee then induced a flyout, and Josh Ferry (Illinois) forced a groundout to end the inning.
Kyle Zurak (Radford) worked a scoreless final inning for the Dutchmen, earning his sixth save, best among pitchers in the PGCBL East Division.
The Dutchmen return home for a game with the Utica Brewers on Monday at Bellizzi Field in the Capital City. It is the rescheduled SEFCU Hometown Heroes Night, where fire, police, EMT, and military will be honored and receive free admission courtesy of SEFCU. The Dutchmen will also pay tribute to America's Pastime in Hollywood with Baseball Movie Night, and all kids will eat free with paid admission.