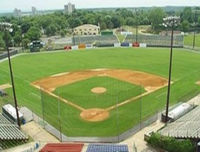 Monday's game at Bellizzi Field between the Albany Dutchmen and the Mohawk Valley Diamond Dawgs has been cancelled due to the weather in the Capital Region. It will not be made up.
However, due to a rainout of a doubleheader in Glens Falls, the Albany Dutchmen have clinched the final PGCBL East Division playoff spot. The Dutchmen will battle Mohawk Valley in Little Falls on Thursday in a one-game playoff.
The Dutchmen will travel to East Field to battle the Glens Falls Golden Eagles on Tuesday, before returning home for the regular season finale on Wednesday against the Amsterdam Mohawks at 7:05. The home finale will be Fan and Host Family Appreciation Night, and will feature a raffle for fans that will include a $50 Visa Gift Card, a Yankee Trails trip to Foxwoods Resort and Casino, MLB jerseys, game-used Dutchmen merchandise and numerous other prizes. The Dutchmen will also recognize thier Pitcher and Player of the Year Awards, presented by Recognize Awards, and will honor this season's Spotlight Newspaper Players of the Week.