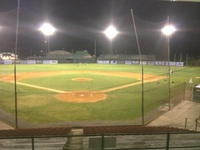 With the final spot in the 2014 PGCBL Playoffs clinched, the Albany Dutchmen lost to the Glens Falls Golden Eagles, 3-0, at East Field in Glens Falls. The Golden Eagles were led by a complete game shutout from Kevin Cowan (William Patterson). Spencer Hotaling (Susquehanna) took the loss for Albany.
The Golden Eagles took the lead in the bottom of the second inning. Brandon Purcell (Georgia College) drilled a one-out single, and advanced to second base on a throwing error. Purcell came in to score on a single from Rich Gugliemi (Saginaw Valley State)
The lead for Glens Falls was widened in the bottom of the third inning. The Golden Eagles loaded the bases with one out after two hit batsmen and a walk. Gugliemi hit a sharp ground ball to shortstop, but a throwing error on the double play turn allowed Mark Powell (Bucknell) and Colton Montgomery (Georgia College) to score and give the Golden Eagles the decisive three run lead.
The Dutchmen scattered five hits throughout the nine innings against Cowan. Leading the Albany offense was Jake Hanson (Valparaiso), who clubbed singles in the second and fifth innings. The Dutchmen also got hits from Will Miller (College of the Albemarle), Nick Morton (Washington and Jefferson), and Danny Hrbek (Radford).
Albany used six pitchers on the night, and the final three — Austin Goeke (Wagner), Austin Foote (Indiana), and Jose Hernandez (Dean College) combined to set down the final ten Glens Falls hitters of the night.
The Dutchmen will host their final regular season home game on Wednesday, as Albany battles the Amsterdam Mohawks. The Dutchmen will hold Fan and Host Family Appreciation Night, and will host a raffle with a variety of baseball prizes, as well as a Yankee Trails trip to Foxwoods Resort and Casino and a $50 Visa gift card. The team will also honor their Player and Pitcher of the Year, as well as their eight Spotlight Players of the Week.