By: Dutchmen Front Office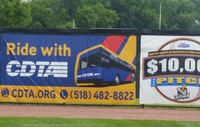 Do you like baseball? Are you good at sales? Do you have a great network?

If that's you, then now is the time to join the sales team for the Albany Dutchmen! The Dutchmen are a well established team in the PGCBL and are growing quickly.

Join us today and take advantage of a great opportunity to create some short term cash for yourself by signing sponsors for the 2015 season!

How does it work? Simple. Use our professionally prepared materials...arrange meetings with businesses in the Albany area...share with them the exciting opportunity to join our existing satisfied sponsors and proudly expose their business to local customers. Then you get 30%, YES 30% of the amount you raise. In addition, we will pay you again if they renew in 2016!

Interested? Then contact us now at [email protected]!
|
Back to index...