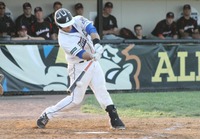 The PGCBL motto of seeing the "stars of tomorrow" proved true again as yet another former Albany Dutchmen signed a contract with Major League Baseball. Last week, 2013 catcher Chris Bianchi, of Trinity University, signed a free agent contract with the Los Angeles Dodgers.

The catcher was a key member of Trinity's 2014 club that ranked 11th in the country, batting .294 with six home runs, eight doubles, and 23 RBIs. This after a 2013 summer season with the Dutchmen that saw him start 24 games behind the dish, compile a .303 on-base percentage, and throw out 23% of base-stealers.

"I'm lucky to have been given an unreal opportunity," said Bianchi. "I couldn't be more excited to be apart of such an awesome organization, and I can't wait to get to spring training."

The excitement is understandable for any player when given a shot at his dream, but it's particularly sweet for Bianchi, who competed away from the glamour of Omaha World Series appearances and spent a year in independent ball for the Kansas City T-Bones before signing on the dotted line. "If you want it bad enough, you can't give up on it," he advised. "Find the thing that motivates you to be better every day. There were a number of times I thought about giving up, but each time I was fortunate enough to have an awesome support system behind me to help, and it's paid off big time."

It's a great reward for the hard work the catcher has put in, and a true testament to what determination can lead to. The Dutchmen community is proud to have Chris in its family and wishes him all the best in his quest to make the dream come true.