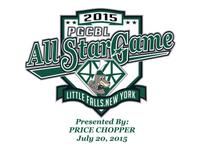 Perfect Game Collegiate Baseball League President Jeffrey Kunion announced today that the site of the 2015 All-Star Game will be Veterans Memorial Park in Little Falls, New York, the home of the Mohawk Valley DiamondDawgs. The game, scheduled for Monday, July 20th at 6:35 will feature top collegiate players from around the United States and beyond.

"What a fine testament to the people of Little Falls, the DiamondDawgs organization, the team sponsors and especially the fans who have made summer baseball a must-see event in the Mohawk Valley," said Mohawk Valley DiamondDawgs Owner Travis Heiser. "We are thrilled to have been chosen as host, and we will make the entire league proud."

This year's sponsor for the game is Price Chopper. In addition to the game, the company is also sponsoring a post-game fireworks spectacular for all in attendance. "Price Chopper proudly sponsors four Perfect Game Collegiate Baseball League teams, and we are excited to support the 2015 PGCBL All-Star game, in Little Falls," Manager of Community Relations Pam Cerrone said. "Collegiate baseball brings future major league players to our neighborhoods, for fun, relaxing, warm weather enjoyment, and Price Chopper is happy to be a part of the 'Boys of Summer' tradition."

"Price Chopper has been a member of the Little Falls community for a short period of time, yet they are already diving in and supporting community-wide events that benefit the people of this city and beyond," added Heiser. "We could not be more grateful for their partnering with the DiamondDawgs to bring the summer classic to the greatest fans in the league!"

Additionally, a home run derby sponsored by State Farm Insurance Agent Scott Grates, will immediately precede the night's contest.

"This is truly a night not to be missed by baseball fans of all ages in the Mohawk Valley," Heiser concluded. "If you love baseball, Veterans Memorial Park will be the place to go to see tomorrow's stars today."

"The All Star Game is a great opportunity for the fans and scouts from Major League Baseball to take a look at some very talented players in the PGCBL. Many of the All Star's in this years game will go on to pro careers in the near future.", stated PGCBL President Jeff Kunion

Tickets to the 2015 All-Star game are available to purchase for $5 per ticket. For tickets please call 315-985-0693.

The PGCBL is affiliated with Perfect Game, the largest independent scouting service in the country. Last year, more than 1,400 professional players had either worn the uniform of a PGCBL team or participated in a Perfect Game event.