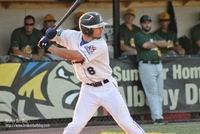 The seventh season of Albany Dutchmen baseball, and the fifth for the team in the Perfect Game Collegiate Baseball League, kicks off Tuesday night in Albany at Bob Bellizzi Field, as the Dutchmen battle the Elmira Pioneers at 7:05. Fans at the ballpark on Opening Night will be treated to special promotions and giveaways throughout the night.
The Dutchmen are seeking their third consecutive berth in the PGCBL Playoffs after making the postseason in the final days of the 2014 season. Three key members of the 2014 Dutchmen will return to Albany for a second campaign, led by 2014 PGCBL All-Star and team Player of the Year Sean Aspinall (Azusa Pacific). Returning on the pitching staff are 2014 Opening Day and playoff starter Jake Welch (Notre Dame College) and local product Chris Amorosi (Siena).
Amorosi will be joined by fellow local standout and Opening Night starter Nick Cioffi (Towson) of Averill Park, as well as two Great Danes from UAlbany — outfielder Eric Mueller and pitcher J.T. Genovese. In total, nine New York natives are on the Opening Day roster. The next most represented states are Florida and Texas, from which there are four players each.
The Opening Day roster features players from such powerhouse programs as Rice, Maryland, Louisville, Mississippi, Baylor, and Florida Gulf Coast. The roster also contains two incoming freshmen committed to major programs in Jack Weiller (Virginia) and Dominic DiCaprio (Rice).
Albany will once again be led by head coach Nick Davey, who is beginning his sixth season as the skipper of the Dutchmen. In his six seasons, Davey has amassed 103 regular season victories, and was named league Coach of the Year in 2013.
The 2015 Dutchmen schedule features a one-of-a-kind game two weeks into the season, as the Dutchmen will travel north to face the Tri-City Valley Cats, the short-season A affiliate of the Houston Astros. The June 17 game will be the only exhibition game featuring a PGCBL team against a professional franchise.
The Dutchmen season will begin with a two-game homestand. After Tuesday's opener with Elmira, the Dutchmen will host the Glens Falls Dragons on Wednesday in the first game of the inaugural Subway Summer Series. Wednesday will be Guaranteed Win Night, where all fans in attendance receive a free ticket to the next game if the Dutchmen don't win. The Albany road opener will be in Glens Falls on Thursday.