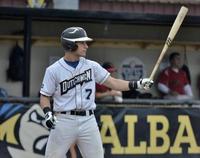 The Albany Dutchmen are pleased to announce the re-signing of the team's only two-time PGCBL All-Star, Zach Remillard of Coastal Carolina.
Remillard comes to Albany after a collegiate season where he made 59 starts for the Chanticleers, hitting six home runs with 42 runs batted in. Coastal Carolina was nationally ranked for much of the season, and qualified for the NCAA Tournament. Over his three years at Coastal Carolina, Remillard has played in all but seven games for the Chanticleers, who played in the College Station Regional this past weekend.
Remillard has previously played for the Dutchmen in 2012 and 2013. In 2012, the infielder set Dutchmen single-season records in batting average (.369) and runs scored (33), He also set then-records in hits (52) and runs batted in (31). He started 38 of Albany's 46 games that season, and recorded a .441 on-base percentage with eight stolen bases. He played with his brother Will during the 2012 season, who is now in the Chicago Cubs organization.
He also played a major role for the 2013 team, the first squad in franchise history to qualify for the PGCBL playoffs. He hit just shy of .300 with 11 extra base hits, and stole 15 bases. His 48 hits and 15 steals are both among the top five single season totals in team history. The Chanticleer infielder was also named to the PGCBL Rising Stars team in 2013.
The Chanticleer was selected in the 2012 Draft by the Houston Astros out of La Salle Institute in Troy, where he was a first-team all state selection as a senior. The Dutchmen are happy to welcome the Cohoes native back to the Dutchmen as the first ever three-year Albany player, as he joins the active roster as another in a group of stout local players.