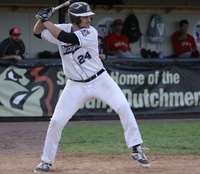 ALBANY, NY—Trailing 6-0, the Albany Dutchmen (4-2) offense roared to life in the 6th and 7th innings, scoring nine times to rock the Amsterdam Mohawks (4-2) for Albany's second win in two tries against the 3 time PGCBL Champions.
After scoring three runs in the bottom of the 6th, Albany mounted a furious rally with two outs in the 7th. Second baseman Chase Crawford (Bridgeport) began the onslaught with a single, starting the carousal of Dutchmen across home plate. Nine batters later, pinch hitter Slayton Vaughan (Oral Roberts) rifled a 2-run single to center, breaking a 7-7 tie and completing the Albany comeback.

The Dutchmen were down almost immediately in the game. The Mohawks sent 11 men to the plate against Albany starter Brandon Nylin (Herkimer CC), scoring six times in the bottom of the 2nd to seemingly take a stranglehold on the game.

After Nylin departed after four complete innings, a combination of Andrew Giddens (Ave Maria) and Zach Spivy (Polk State College) kept the Mohawks at bay, relinquishing a lone run through the remainder of the game.

The Dutchmen victory puts them ahead of the Mohawks in the East Division standings.

Friday Night, Albany routed Amsterdam 10-1. In the early innings Sunday, it seemed the Mohawks were out for vengeance, slamming the ball all over Bellizzi Field and yielding a lone infield hit prior to the Dutchmen offensive resurrection.

It was Crawford, the number 9 hitter in Nick Davey's order that began the resurgence, leading off the 6th by slapping a single to right. By the time he struck out to conclude the bottom of the 7th, the Dutchmen sent 19 batters to the plate in the two frames, with 9 crossing home plate.

The combined 16 runs easily set the season highs in a game the Dutchmen have played this season.

Jake Mielock (Tampa) was saddled with the loss for the Mohawks, going .2 of an inning and relinquishing the lead to Albany. Though, just 2 of the 6 runs yielded on his watch were earned runs. The Dutchmen comeback was aided by plenty of Mohawk miscues, the biggest was an errant throw by third baseman Yurchak (Wake Forest) that pulled Brendan Tracy (Fairfield) off the first base bag, tying the game momentarily at 7-7.

After a league-wide off day Monday, Albany returns to action Tuesday Night at home against the Newark Pilots. Opening Day Starter Nick Cioffi (Towson) is slated to get the ball for the hometown team. Amsterdam will return home on Tuesday to take on the Saugerties Stallions.

Tuesday Night at Bellizzi Field is College Night, where fans can wear their school's gear to receive $1 off admission. In addition to discounted beer sales, it is also 2 for 2uesday at the ballpark.