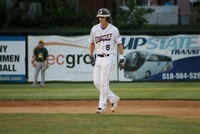 Albany Dutchmen alumni Ernie Clement sent his Virginia Cavaliers to the College World Series, drilling a two-run walk off single that gave Virginia a 5-4 victory over Maryland in the second game of the Super Regional. Virginia had won the first game, setting up Clement's heroics.
With no outs in the bottom of the ninth, Clement dug in with the bases loaded and delivered a bullet down the left field line that scored two and won the game for the Cavaliers, spawning a wild celebration that left the freshman with a welt on his head. The infielder went 2-for-3 in the clinching game, reaching base a third time on a walk earlier in the game.
Clement has been a big part of Virginia's success this season, making 54 starts and appearing in 55 games hitting .239 in 205 at bats as a Freshman.
Last year for the Dutchmen, Ernie hit .322 in 19 games and finished second in team average. Clement was a major part of the Dutchmen making the playoffs in 2014, coming up with big plays both at the plate and in the field.
The Dutchmen would like to congratulate Clement and the Cavaliers on advancing to Omaha, and wish the team the best of luck in the College World Series next week.