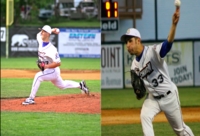 Albany Dutchmen starting pitchers Nick Cioffi (Towson) and Chris Amorosi (Siena) were named Co-Pitchers of the Week by the PGCBL, joining Utica's Michael Messier (Bellarmine) and Amsterdam's Anthony Romanelli (Wake Forest) in receiving the honor.

Cioffi threw seven shutout innings on Opening Night last Tuesday, striking out eight and earning the victory for the Dutchmen in a 3-1 victory over the Elmira Pioneers.

After the game, Cioffi was pleased to get the summer season off on the right foot.

"I was getting a lot of first pitch strikes, then using the slider set up my fastball to set up a strikeout or have them put it in play early in the count to keep my pitch count down," he said.

The PGCBL also tipped its cap to Chris Amorosi for his strong start to 2015. Amorosi, who follows Cioffi in the Dutchmen rotation, threw 7 and a third scoreless innings in last Wednesday's tilt against the Glens Falls Dragons. The southpaw got the no decision Wednesday, relinquishing just four hits while striking out four in the strong effort.

"[I was] just trying to stick to the plan, throwing in the zone as much as you can and trying to keep them off speed. It was successful today," Amorosi said Wednesday.

Both Cioffi and Amorosi will look for another strong start when the pair climbs the mound again for Nick Davey this week. As a pitching staff, Amorosi says the key to success in 2015 is building on one another's performances.

"I think it's just outdoing the guy who pitched yesterday. If we can each try to do a better than the night before it's going to be a fun season," he said.