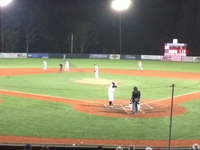 AMSTERDAM, NY—The Amsterdam Mohawks (5-3) scored four times in their last at-bat against Albany closer, Jesse Cooper (Seton Hill), to win their first game against the Dutchmen (4-3), reclaiming first place in the PGCBL East Division.
After the DutchmeMohawk 9th Inning Rally Stuns Dutchmenn scored a fifth run in the top of the 9th inning, the Mohawks sent eight men to the plate, before Tyler Kirkpatrick (Marist) concluded the game with a solid single to center, capping the comeback and the 6-5 win.
In his second start of the season, Albany starter Nick Cioffi (Towson) weaved in and out of trouble in his 6 innings of work. Cioffi fanned four Mohawks, relinquishing one earned run and leaving the game with a 4-1 advantage.
Albany struck first in the game, scoring two runs in the top of the 1st inning. A walk and back-to-back Mohawk errors put the first two Dutchmen hitters on second and third with nobody out. Eric Mueller (UAlbany) and Michael Fitzsimmons (Ole Miss) both brought home the runners on sacrifice flies to the outfield, putting the Dutchmen ahead.
Albany led for the duration of the game before the bottom of the 9th.
Nursing a three run advantage, Cooper moved from second base to the pitcher's mound to try and get the last three outs. After a leadoff walk and a base hit, Cooper struck out Drew Freedman (Wake Forrest), which turned out to be the lone out he would record.
Three batters later, centerfielder Hunter Tackett (Auburn) laced a two-run double down the third base line, tying the game and sending the ballpark into a frenzy. An intentional walk then brought up Kirkpatrick, who ripped a fast ball back up the box for the win.
After the 4th Dutchmen run crossed the plate in the 4th inning, 13 straight hitters were retired by Mohawk pitching, keeping Albany at bay before the big rally.
This was the third game between the two this year. After bulldozing Amsterdam 10-1 last Friday, last Sunday's contest also saw a major rally from the home team. Trailing 6-0 after two frames, it was the Dutchmen who mounted the comeback in the late innings to secure a 9-7 win. Tonight, it was the Mohawk's turn to inflict the major damage.
The Dutchmen return to Bob Bellizzi Field to take on the Victor Railriders tomorrow night, the second of 13-straight games Albany will play, including an upcoming exhibition game against the Tri-City Valleycats. It will be Throwback Thursday at the ballpark, including all-you-can-eat at the concession stands for $10.