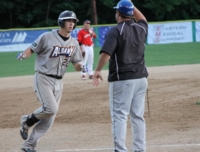 The 2015 Major League Baseball Draft saw four alumni of the Albany Dutchmen selected by professional teams, the most in a single draft in franchise history. All four Dutchmen were selected on Wednesday, the final day of the three-day event.
The first former Albany player to be drafted was Richmond's Matt Dacey, who was a second team All-PGCBL selection and league Home Run Derby champion in 2013. Dacey was selected in the 21st round by the Tampa Bay Rays after a collegiate season where he hit 17 home runs, a total among the ten best in Division 1 baseball.
Two rounds later, a member of the 2012 Dutchmen found a professional home in left-hander Trevor Lacosse of Bryant. The pitcher was selected in the 23rd round of the draft by the Miami Marlins. Lacosse was selected as the league's best closer in 2012, and recorded a Dutchmen record eight saves. This past season at Bryant, Lacosse made nine starts and six relief appearances, earning two wins and a save.
A 2015 Dutchmen signee was selected in the 26th round in Herkimer pitcher Jacob Shortslef. Shortslef was picked by the Texas Rangers. A Lynn University commit, Shortslef went 4-0 with two saves for the Generals this year, recording a 2.76 ERA and 34 strikeouts in 29.1 innings on the mound.
The final Dutchmen player drafted was another member of the record-setting 2013 team. Dartmouth first baseman Joe Purritano was selected in the 30th round by the Cincinnati Reds. Purritano hit .301 for the Dutchmen two seasons ago with 15 runs batted in. This season at Dartmouth, Purritano had a team-high 22 extra-base hits and 30 runs batted in for the division champion Big Green.
The four newest draftees brings the total of Dutchmen drafted before or after their time in Albany to 13, including four on both the 2012 and 2013 squads. The Dutchmen would like to congratulate Dacey, Lacosse, Shortslef, and Purritano on their accomplishment, and wish them the best of luck in their future baseball endeavors.