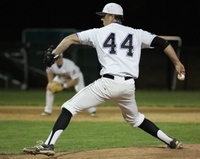 The Albany Dutchmen surrendered two big innings, and it made the difference in a 12-1 thrashing at the hands of the Victor Railriders Thursday night at Bob Bellizzi Field in Albany.
The Railriders scored twice in the first inning, both unearned runs after an error with two outs. Singles from Brock Daniels (St. Ambrose) and Brady Acker (George Mason) brought the opening runs in off Albany starter Chris Amorosi (Siena).
The Railriders would continue their assault in the second inning, scoring four more runs. With the bases loaded and two outs in the inning, Nick Boland (St. Leo) crushed a three-run double to center field to bring in Chris Introcaso (Saint Rose), Pete Carrier (Wofford), and Evan Fernandez (Jacksonville). Boland would then score on a Daniels single.
After the three-run double, Amorosi retired the final twelve hitters he faced to complete his outing.
The Dutchmen would score their only run of the game in the bottom of the fifth inning. Hunter Boose (Georgia Regents) singled to begin the inning, and a groundout from Sean Aspinall (Azusa Pacific) brought him to the plate. The Dutchmen would manage just three hits on the game, with the other two provided by Adam Gauthier (Dartmouth) and Dominic DiCaprio (Rice).
Victor put the game away against Albany reliever Steven Pietrzyk (Florida Gulf Coast), scoring six more runs in the sixth inning. The first two runs were scored on RBI singles from Fernandez and Matt Fallon (Black Hawk College), which was followed by a two-run double from Boland, who finished his night with five runs batted in. A two-run single from Nolan Schultz (Rochester) ended the game's scoring.
Seven of the nine Victor starters scored a run in the victory, and all nine hitters reached base at some point in the game.
Dutchmen relievers Taylor Hoesen (Trinity University) and Liam Conboy (Susquehanna) worked the final two innings scoreless for Albany. Mitch Patishall (Cincinnati) picked up the win for the 3-2 Railriders, while Amorosi was hit with the loss for the 4-4 Dutchmen.
The Dutchmen are back in action Friday for the third game of the Subway Summer Series with the Glens Falls Dragons. It is Sanavi Water Night at the ballpark, where fans will receive free water courtesy of Sanavi. It is also another Baseball Bingo night at the ballpark. The game with Glens Falls will be the conclusion of a two-game homestand, after which Albany goes on the road for the weekend.