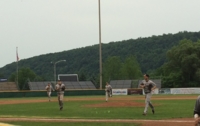 The Albany Dutchmen offense was shut down by Mohawk Valley pitching, hitting safely just four times in a 10-0 loss to the Mohawk Valley DiamondDawgs Sunday evening at Veteran's Memorial Park in Little Falls. The DiamondDawgs scored eight runs in their final two at-bats to put Albany away.
Starter Payton Coddou (Louisiana-Monroe) went seven scoreless innings, allowing just two hits- singles by Sean Aspinall (Azusa Pacific) and Adam Gauthier (Dartmouth). Jesse Cooper (Seton Hill) added a single in the eighth inning, and Mike Fitzsimmons (Ole Miss) drilled a ninth inning double.
The DiamondDawg scoring began in the first inning, as Troy Scocca (Fairfield) smoked a triple to deep right field to score Thomas Walraven (New Haven). Scocca would then score on a sacrifice fly by JD Osborne (Polk State College). Scocca would go 4-for-5 in the DiamondDawg victory, recording three additional singles.
Mohawk Valley extended its lead in the bottom of the seventh inning, putting three runs on the board to open up the lead to five runs. The two-out rally started when Anthony Herrera (Louisiana-Monroe) clubbed a double to score Anthony Capo (LIU Brooklyn) and Malcolm Kelsey (St. John Fisher). Herrera would come around to score on a single from leadoff hitter Matt Pagano (Marist).
The scoring concluded with five more runs from Mohawk Valley in the bottom of the eighth inning. Scocca's fourth hit allowed him to later score on a Capo single. A single from Herrera brought Sam Machonis (Florida Southern) to the plate, which was followed by an RBI walk by Pagano. A two-run double by Walraven brought in the ninth and tenth runs to end the barrage for the DiamondDawgs.
Coddou picked up the victory for the DiamondDawgs, while Jon Reid (Azusa Pacific) was charged with the loss, his first of the season. Ryan O'Connor (Fairfield) and Erik Bauer (Marist) would each pitch an inning to finish the game for Mohawk Valley.
The Dutchmen will look to get back in the win column on Monday night, as Albany welcomes the Utica Brewers to Bob Bellizzi Field. It will be Mystery Monday at the ballpark, and all kids will eat free with paid admission.