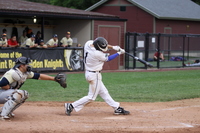 The Albany Dutchmen surrendered seven runs in the final five innings, and fell 8-4 to the Utica Brewers on Monday night at Bob Bellizzi Field in Albany.
The game was tied 1-1 through four innings after the two teams traded runs in the first inning. The Brewers struck first after a two-out walk to Dominick Bregar (Colorado State-Pueblo) led to an RBI double from Kyle Schade (St. Andrew's). The Dutchmen responded by loading the bases with no outs in the bottom half, but were only able to push across one run on a Tyler Nelin (George Mason) groundout.
The game remained tied into the fifth inning, when Utica took the lead for good with three runs. Schade tripled with two outs, part of a 5-for-5 day, to score Aaron Smith (Wake Forest) and Bregar to give the Brewers a 3-1 lead. Schade then scored on a Taylor Olmstead (Connecticut) single to make the score 4-1.
The lead inflated to 5-1 in the sixth, as Tadarious Hawkins (Henderson State) walked and eventually scored on a fielder's choice.
Albany rallied for a pair of runs in the bottom of the sixth to trim the deficit to two runs. Dominic DiCaprio (Rice) walked with one out in the inning, and would score after a Sean Aspinall (Azusa Pacific) single and a fielder's choice and error off the bat of Eric Mueller (UAlbany). Mueller scored on the next at-bat on a single from Grayson Lewis (Rice), who went 4-for-4 with a hit-by-pitch.
Utica put the game away in the seventh, scoring another three runs. The runs scored on a Ryan Cox (Kutztown) single and a two-run single from Dan Vucovich (Holy Cross), and plated Schade, Olmstead, and Cox.
The Dutchmen scoring came to an end in the eighth inning, as the final run of the game crossed the plate. Mueller reached on an error with one out in the inning, and scored after a Lewis single and an RBI double from Hunter Boose (Georgia Regents).
Utica starter Ryan Simpler (East Tennessee State) earned the victory for the Brewers, his second of the year. Brandon Nylin (Herkimer CC) was charged with the loss despite nine strikeouts, the highest total for a Dutchmen pitcher since 2012.
Albany will look to avoid a three-game losing streak Tuesday night in its first ever home game with the Saugerties Stallions. Nick Cioffi (Towson) will start for the Dutchmen, and it will be High School Student Athlete Recognition Night sponsored by the NYSPHSAA. It is also 2 for 2uesday at Bob Bellizzi Field.