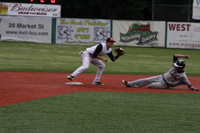 The Albany Dutchmen managed just one hit, and fell convincingly to the Amsterdam Mohawks, 9-0, on Saturday night at Shuttleworth Park.
The Mohawks opened the scoring in the bottom of the first inning. Riley Mahan (Kentucky) recorded a one-out single, and advanced to third base on two wild pitches. Hunter Tackett (Auburn) then grounded out to second, but Mahan crossed the plate to give Amsterdam a 1-0 lead.
The game was broken open by Amsterdam starting in the bottom of the fifth inning, as the Mohawks scored three runs on four hits. The first pitch of the inning was clubbed over the right-center field wall by Brendan Tracy (Fairfield) to give Amsterdam a 2-0 lead. After two outs, Drew Freedman (Wake Forest) singled and proceeded to score on a double from Craig Dedelow (Indiana). Dedelow then scored on a Mahan single.
Four more runs scored for the Mohawks in the sixth, opening the lead to 8-0. The bases loaded with one out on a walk and two hit by pitches. Dedelow stepped to the plate and clubbed a two-run single. Mahan and Justin Yurchak (Wake Forest) would each record RBI singles to give the Mohawks an eight run lead.
The scoring ended in the bottom of the seventh inning for Amsterdam, when a leadoff walk to Tracy ended in a run via a single from Handsome Monica (Arizona).
Fernando Guerrero (Marshall) earned the win for the Mohawks, and Jon Reid (Azusa Pacific) was charged with the loss. Guerrero worked six scoreless innings, striking out eight Dutchmen hitters with only one hit relinquished.
The lone Albany hit was a fourth inning single from Hunter Boose (Georgia Regents). The Dutchmen also managed three other base runners on a walk to Mike Bollmer (Louisville), a hit by pitch off Simon Palenchar (Radford), and a dropped third strike that allowed Eric Mueller (UAlbany) to reach.
Albany heads back on the road on Sunday as part of a three game, four day road trip. The Dutchmen will visit Dunn Field in Elmira for a battle with the Pioneers, as 2014 Opening Day starter Jake Welch (Notre Dame College) makes his first 2015 start. A Tuesday date in Saugerties completes the road trip.
The Dutchmen return home to Bellizzi Field on Wednesday, June 24th for a double header with the Glens Falls Dragons, reigniting the Subway Summer Series, which is currently tied 1-1. It will be Bacon Night at the ballpark, and Web Wednesday promotions will occur throughout the day.