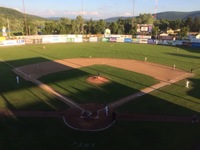 ELMIRA, NY—The Albany Dutchmen (8-8) mounted a 7-0 advantage over the first two frames, but could not hold the lead, allowing the Elmira Pioneers (10-6) to score eight unanswered and win.
The Dutchmen scored three times in the first, on the strength of an RBI single by Tyler Nelin (George Mason) and a two-run home run by Michael Bollmer (Louisville). Bollmer roped a fastball well beyond the raised, right field fence, his first hit as a member of the Dutchmen and the first team homerun during PGCBL play.
Four more Albany runs crossed home in the top of the second, building the largest Dutchmen lead of the game. However, after the first two frames, the Dutchmen were held to just two more hits the remainder of the game.
Zach Remillard (Coastal Carolina) continues to swing a hot bat, finishing the game 2 for 4 with a run scored.
Elmira immediately staged a rally, cutting into the deficit in the bottom of the 2nd. The Pioneers scored three times off of Dutchmen starter Jake Welch (Notre Dame College). Two came across on a pair of back-to-back doubles by Keegan Maronpot (Wake Forest) and the number nine hitter Justin Hayes (Old Dominion), trimming their deficit to four.
After an RBI groundout in the 3rd, the Pioneers crossed home plate four times in the bottom of the 6th against the Dutchmen bullpen. After intentionally walking Christian Santisteban (Manhattan) to load the bases, Andrew Giddens (Ave Maria) hit a batter and walked another, before giving three inherited runners to Liam Conboy (Susquehana).
Conboy did not fair much better. With the bases loaded and a one run lead, Conboy plunked Troy Squires (Kentucky) to tie the game, before uncorking a wild pitch and creating a Dutchmen deficit for the first time in the game.
The Pioneers scored four times in the 6th, on the strength of two hits, two walks and two hit batsmen.
Albany surrendered five errors in the game defensively, four on throwing miscues over to first. The field was left uncovered during the early afternoon showers that moved through the Elmira area, keeping both teams from taking any batting or fielding practice on the game surface.
After a league wide day-off Monday, Albany will head to Saugerties Tuesday to take on the Stallions. The Dutchmen return home to Bellizzi Field on Wednesday, June 24th for a double header with the Glens Falls Dragons, reigniting the Subway Summer Series, which is currently tied 1-1. It will be Bacon Night at the ballpark, and Web Wednesday promotions will occur throughout the day.