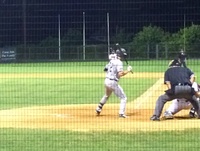 The Albany Dutchmen dropped their fifth consecutive game, and third straight to the Glens Falls Dragons, as Glens Falls scored three times in the first inning and never looked back in a 12-3 victory Thursday night at East Field.
The opening surge by the Dragons was started when leadoff hitter Danny Oliveri (Triton) was hit by a pitch. After stealing second base, a double from Zach McIlroy put the Dragons on the board. Oscar Rodriguez (St. Thomas) followed with a double of his own to plate McIlroy. The first inning scoring concluded on a single from Tyler Phillips (Herkimer CC).
The Dragons broke the game open in the fourth inning with five more runs on five hits. Rich Gugliemi (Saginaw Valley State) clubbed a home run over the left field wall on the second pitch of the inning to give the Dragons a 4-0 lead. After a hit from David Sarmiento (Post), an error off the bat of Oliveri, and a walk to McIlroy loaded the bases, Rodriguez clubbed an RBI single. Jake Vieth (Tacoma CC) continued his hot hitting with a single of his own to push the lead to six runs. The final two runs scored on a groundout from Phillips and a single by Donovan Christman (Lynn).
The eight-run lead ballooned to eleven in the bottom of the sixth, as the Dragons loaded the bases on two errors and a walk to Vieth. Christman then plated all three runs on a double to the left center field gap, giving Glens Falls an 11-0 lead. Christman drove in four runs on the game for the Dragons.
The Dutchmen answered with three runs in the top of the seventh inning on two hits. Albany loaded the bases on a walk to Jesse Cooper (Seton Hill), a single by Dominic DiCaprio (Rice) and a walk to Simon Palenchar (Radford). A base on balls drawn by Eric Mueller (UAlbany) scored the first Albany run of the game. Pat Hisle (Maryland) then singled to score DiCaprio, and a fielder's choice off the bat of Grayson Lewis (Rice) concluded the Dutchmen scoring.
Mueller was a bright spot for the Dutchmen, reaching base three times in the loss.
Glens Falls ended their half of the scoring in the bottom of the eighth, as Christman was struck by a pitch and came around to score on a groundout by Oliveri.
Matt Stojkov (Saginaw Valley State) earned the win for the Dragons, working six scoreless innings on the mound. Chris Amorosi (Siena) took the loss, as the Dragons claimed a 4-1 lead in the 2015 Subway Summer Series.
Friday at Bellizzi Field is Martin, Harding and Mazzotti Giveaway Night. The first 300 fans will receive a free Dutchmen mini bat, compliments of the night's sponsor. There will also be baseball bingo for the game between the Dutchmen and Adirondack Trail Blazers.