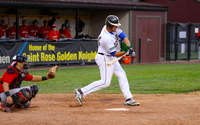 ALBANY, NY—Playing their first game since last Friday, the song remained the same for the Albany Dutchmen (8-13) Thursday, dropping an 8-5 contest to the PGCBL East Division leading Amsterdam Mohawks (19-6).
Amsterdam sent ten batters to the plate against Dutchmen starter Nick Cioffi (Towson) in the top of the 1st, plating five runs before the Dutchmen took their first plate appearances. The first eight Mohawks reached base, thanks to three hits and a trio of walks relinquished by the Dutchmen.
After a rocky first inning, Cioffi settled down in his outing. By the time he departed following the 6th inning, Cioffi was officially touched for five earned runs on five hits, walking those aforementioned three and striking out a pair.
For the first two times through their order, the Dutchmen hitters had difficulty dealing with the Mohawks starter. Zach Logue (Kentucky), who leads the PGCBL with 5 wins, gave up just one hit through the first five innings. Slayton Vaughan (Oral Roberts) mashed an RBI double to centerfield in the bottom of the 2nd, scoring Sean Aspinall (Azusa Pacific) and slicing a run off the deficit.
After a Mohawks sacrifice fly in the 4th inning, the Dutchmen bats plated a pair of runs in the 6th against Logue. An RBI double to dead centerfield by Tyler Nelin (George Mason), followed by a run-scoring single to right from Dominic DiCaprio (Rice), cut the lead in half to 6-3.
However, in the top of the 7th against Dutchmen reliever Jake Welch (Notre Dame College), the Mohawks reasserted their offensive prowess, distancing themselves from the Dutchmen. An RBI groundout, followed by an RBI double to center by Brendan Tracey (Fairfield) extended the lead back to five and all but put the game out of reach.
The Dutchmen admirably plated a pair of runs on an RBI double by pinch hitter Michael Bollmer (Louisville), and a sacrifice fly from Hunter Boose (Georgia Regents), before the final out was recorded.
After dropping their last seven decisions, the Dutchmen will look to return to their winning ways Friday in Saugerties. A double header is scheduled with the Stallions (9-12) at Cantine Field.
Albany returns home Sunday to Bellizzi Field for a date with the Mohawk Valley Diamond Dawgs (10-11). Along with the 5:05 start, it is Northeast Commercial Printing Giveaway Night at the ballpark. The first 250 fans will receive free Dutchmen team posters, compliments of the evening's sponsors. An autograph session by players and coaches will commence immediately following the game action. Stewart's Shops will also be serving $2 ice cream cones at the ballpark. Sunday is also Sunday Funday in Albany.