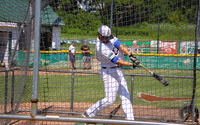 Four Albany Dutchmen players represented the franchise at the 2015 PGCBL All-Star Game, as Slayton Vaughan (Oral Roberts) participated in the Home Run Derby, and Nick Cioffi (Towson), Mike Reitcheck (Penn) and Zach Remillard (Coastal Carolina) played in the fifth edition of the PGCBL's Midsummer Classic. The East Division won the game, which was held in Little Falls, home of the Mohawk Valley DiamondDawgs. for the fourth year in a row, 18-2.
Vaughan began the day for the Dutchmen by hitting two home runs out of Veteran's Memorial Park. Vaughan's total was good for third amongst the ten competitors, with the top two advancing to the final round. Saugerties' Clint Hardy (Georgia Regents) won the contest with three in each round.
The game itself was contested in front of a nearly sold-out crowd in Little Falls. Cioffi pitched for the East Division in the second inning, and allowed just a two-out walk to Josh Lovelady (Mississippi State) of Elmira. The righty induced two groundouts and a pop out to work a scoreless inning.
Remillard put several hard-hit balls in play, but was not able to reach.
Reitcheck tossed the final inning of the game for the East, getting a strikeout, a pop out and a groundout to work a 1-2-3 inning. The game MVP was awarded to Amsterdam's Scott Manea (NC State), who hit a three-run homer in the ninth inning.
With the All-Star Game in the rearview mirror, Albany returns to Bellizzi Field Tuesday for a doubleheader with the Saugerties Stallions . Accompanying the 5:05 start is Senior Citizen Night at the ballpark. It is also 2 for 2uesday at Bellizzi Field.