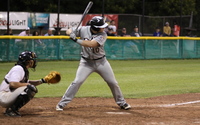 Even with the spring season a few months away, a number of former Albany Dutchmen were able to make contributions to their teams during fall games. Many universities held intra-squad scrimmages for bragging rights, while others were able to compete against other universities or teams to gain experience before the 2016 season. Over the next two weeks, DutchmenBaseball.com will spotlight those who made impacts wearing their school colors this fall.
Michael Fitzsimmons, Ole Miss- Fitzsimmons, who was Albany's Player of the Year in 2015, had a stellar fall for the Rebels entering his redshirt freshman season. In a pair of Red-Blue intrasquad scrimmages, Fitzsimmons belted a home run and recorded a double and a single over seven at-bats.
Ole Miss head coach Mike Bianco told OleMissSports.com Fitzsimmons' performance was a welcome sight.
"It was nice to see Fitz break out a little bit with a double, a home run, and a couple other quality at-bats," Bianco said.
The next week, Fitzsimmons helped his side to a win in Ole Miss' annual Pizza Bowl, driving in three runs in the deciding game three of the series.
Ernie Clement, Virginia- The returning All-College World Series selection helped this Orange team to a dramatic four games to three victory in the Cavaliers' Orange and Blue World Series. Clement had two hits in game seven, as well as leading the Orange to an earlier victory in Game Two with a two-hit performance.
Jack Weiller, Virginia- Weiller made his unofficial debut for the Cavaliers as teammates with Clement on the Orange side. Weiller scored a run in the second game of the series, crossing the plate after a bunt coming off the bat of Clement. His best game came in Game Six, where the freshman scored twice and went 3-for-3 in a losing effort.
Michael Bollmer, Louisville- Bollmer traveled to the Dominican Republic with the Cardinals in October, and was one of Louisville's offensive leaders on the trip, which featured games against teams from the Domincian Republic Professional Baseball League. Over the four games in the Dominican, the slugging infielder drilled two home runs, drove in seven runs, and recorded a .364 batting average.
Back in Louisville, Bollmer helped McGrath's Marines to a 3-1-1 series victory in Louisville's Pizza Bowl, recording an RBI double in the closing game of the series.
Zak Spivy, Polk State College- Spivy, who is entering his second season at Polk State College in Florida, played in a conference-wide Sophomore All-Star Weekend in late October. The showcase, which was held at the spring training home of the Detroit Tigers in Lakeland, Fla., was attended by over 200 college coaches and professional scouts. Spivy, a right-handed pitcher, was one of five Polk State players to make the trip to Lakeland.
Patrick Hisle, Maryland- The Terrapin also helped his team to a victory in a Fall World Series, making an impact in the final game of a three-game set. With his "Old Liners" trailing the "Aggies" in the third inning, Hisle drove in his team's first run of the game with a sacrifice fly to tie the game. The Old Liners would go on to win the game 8-1 to win Maryland's intrasquad series.
Slayton Vaughan, Stephen F. Austin- After the conclusion of the Dutchmen season, the 2015 PGCBL Home Run Derby participant signed on with Division I Stephen F. Austin for the remainder of his collegiate career. As part of SFA's Fall World Series, Vaughan hit a home run for his team, the Goon Squad. For his efforts, Vaughan was named as the hitter of the game.
Gavin Wallace, Fairfield- The playoff starter for the Dutchmen this past season helped his Red Team to a 2-0 series victory over Team Anthracite in Fairfield's Fall World Series. Fairfield's fall series contained a number of former PGCBL players.
Next week: DutchmenBaseball.com looks at more former Dutchmen's contributions during the fall season.