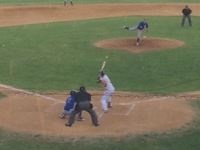 The Albany Dutchmen (15-15) lost to the Glens Falls Dragons (11-17) Wednesday night, falling by a score of 5-2.
Glens Falls would put up four of their five runs in the bottom of the 6th, all unearned, as a Bray Curreri (College of Saint Rose) would end up being a fatal blow.
With two outs and a runner on second and the Dutchmen leading 2-0, Dave Hoffmann (University at Albany) would ground to Curreri, and a bad throw would allow the runner to score and the inning to continue. Brian Uliana (Rider University) would follow with a single and Josh Brown (Skidmore College) with a walk to load the bases and bring Giles' night to an end. Joe Pokrentowski (College of Saint Rose) would allow a first pitch bases-clearing triple to Hunter Szaflarski (Lock Haven University) to give Glens Falls a 4-2 lead, and swing all momentum to the hosts side.
The Dutchmen would register a hit in each of the first three innings, before they would finally break through in the top of the 4th, doubling their total off three singles. Kyle Skeels (Coastal Carolina University) and Jack Gethings (Fairfield University) would go back-to-back with one out, and after a double steal, a two-out two-RBI single from Curreri would give the Dutchmen a 2-0 lead.
Evan Giles (Indiana State University) was strong through his first five innings after getting the start, after allowing five hits in those five innings but stranding all six runners that were on when the final out in those innings happened.
After the four run bottom 6th, Chris Kwitzer (University at Buffalo) would hit a solo run in the bottom of the 7th to extend the lead to three, and provide the final score of 5-2.
Albany would look to rally in the 9th, as Gethings and pinch-hitter Micah McHugh (University of Mississippi) would each single to give the Dutchmen runners on the corners with one out. However, pinch-hitter Jon Skidmore (Dallas Baptist University) would strikeout and JJ Shimko (University of South Carolina Upstate) would fly out to end the ballgame.
Giles' final line would be five and two/third innings, allowing seven hits and four runs, but none of those runs were earned, dropping his ERA to a microscopic 0.58, second-lowest in the league among eligible pitchers. He would also walk two and strike out four.
Gethings and Curreri would lead the offense, as the Fairfield product would finish two-for-three with a run, and the College of Saint Rose second baseman would go one-for-three with the only two Dutchmen RBI's on the evening. Skeels would finish one-for-three with the other Dutchmen run.
Glens Falls will travel to Saugerties tomorrow night, facing the Stallions at 6:30 from Cantine Memorial Field.
Albany will return home tomorrow night for a home-and-home with the Amsterdam Mohawks, as first pitch from Bellizzi Field is set for 7:05. The Dutchmen will pay homage to their nickname, as they celebrate Dutch Heritage Night, along with the typical fan-favorite Thursday Dutchmen promotion, All You Can Eat for $10.