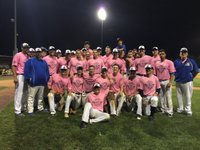 The Albany Dutchmen (20-17) took a big step in improving their playoff standing by defeating the Mohawk Valley DiamondDawgs (18-15) by a score of 5-1.
The DiamondDawgs would strike first in the top of the third inning. Michael Conti (Fairfield University) would leadoff the inning by reaching first base and advancing to second base on an error by Jack Gethings (Fairfield University). After advancing to third base on a groundout, Conti would come around to score on a groundout to shortstop by Mac Crispino (Fairfield University).
Albany would respond in the bottom of the sixth inning. PGCBL All-Star JJ Shimko (University of South Carolina Upstate) would start off the inning with a walk issued by DiamondDawg starter Mike Appel (Central Connecticut State University). Shimko would then advance on a groundout to second base by Gethings, then advance on a balk by Appel. After a popout, with the speedy Dutchmen on third base, Appel would throw a wild pitch to John Novenche (Canisius College), allowing Shimko to score to give the Dutchmen their first run of the game.
The Dutchmen were not done scoring in that inning, however. Later in the at-bat, Novenche would be hit by a pitch and leave the game. Jon Skidmore (Dallas Baptist University) would come on to pinch-run for Novenche, and after quickly moving to third on a stolen base abd passed ball, would score on a Anthony Forte (Tulane University) double into the right-center field gap, easily scoring to give the Dutchmen a 2-1 lead.
Albany would then attack the bullpen of the DiamondDawgs in the bottom of the 7th inning. Jon Sell (Herkimer CC) would start the inning in relief of Appel. He would be greeted by Mychael Goudreau (Azusa Pacific University), who singled off the new Mohawk Valley pitcher. Carson Klepzing (University of Mississippi) would then walk, bringing up Shimko. With the count 3-1 onto Shimko, Goudreau and Klepzig attempted a double steal, and even though the throw by DiamondDawg catcher Tanner Leenknecht (Treasure Valley CC) would be spot on to the third base bag, Sean Mazzio (Wagner College) could not handle the throw, allowing the ball to get into left field and Klepzig to advance to 3rd and Goudreau to come home and make the score 3-1 Albany.
Albany would continue the put the pressure on Sell, as the next pitch by the DiamondDawg reliever would be lifted into the left-center field by Shimko for a double. Klepzig would walk home and make the score 4-1. Sell would then be pulled from the game by Blake Nation in favor of Nick Plachno (Central Connecticut State University). After a groundout by Gethings, PGCBL All-Star Justin Childers would come to the plate. He would double to bring home Shimko and increase the Dutchmen lead to 5-1.
The Dutchmen pitching continued to be effective, as Dylan D'Anna (Siena College) delievered a strong outing on the mound. D'Anna was able to limit a lineup that featured 6 PGCBL All-Stars to three hits, four walks, and one unearned run over 6.2 innings. He would also strikeout three batters to earn the win and Recognize Player of the Game accolades.
The bullpen for the Dutchmen for the Dutchmen also continues to impress. The combined trio of new Dutchmen pitcher Ryan Steffens (Southern New Hampshire University), Nate Harris (Louisiana Tech University) and Joe Pokrentowski (College of Saint Rose) picked off where D'Anna left off, allowing only one hit and striking out two over 2.1 innings of work.
Shimko would finish the day 1-for-3 with a RBI, two runs and two walks. Childers went 1-for-4 with a RBI, and Forte would complete his evening going 1-for-2 with a RBI and two walks.
The night would also include Pink Game festivities, as the Dutchmen would have their 6th Annual Pink Game. Dutchmen players wore special pink jerseys that were auctioned off through a silent auction during the game, as also the bases were painted pink and there was an overwhelming amount of pink in the stands in the support of the battle against breast cancer. There was a huge raffle of over 30 great prizes from gift cards to a game used bat, along with Yankee tickets and a team signed pink bat, which all drew great attention. Proceeds from the auction, raffle, and 50/50 were donated to the American Cancer Society and Susan G. Komen, and both organizations had tables and employees on hand to give information about the disease and how to bring awareness towards it.
With the win, the Dutchmen improve to 20-17 and stays in 4th place in the PGCBL East Division. Mohawk Valley drops to 18-15 and falls to 3rd place in the PGCBL East Division. Both teams sit 6 games behind PGCBL East leader Amsterdam.
Mohawk Valley returns home to Veterans Memorial Park in Little Falls as they host the Adirondack Trail Blazers. First pitch is scheduled for 6:35 p.m.
The Dutchmen have the day off Sunday before traveling to Shuttleworth Park on Monday to face the Amsterdam Mohawks. First pitch is scheduled for 6:35 p.m. The next event occurring at Bob Bellizzi Field is the PGCBL All-Star Game on Wednesday, July 20th. Gates open to the public at 4:30 p.m., with the Home Run Derby scheduled for 5:30 p.m. and the All-Star Game scheduled for 7:00 p.m.
The next home game for the Dutchmen is Saturday, July 23rd, when they play a doubleheader against the Glens Falls Dragons. It is Phillips Hardware Night, as they will be hosting giveaways and demos. Stannard Photography will also be giving away a selection of Anthony Marks (Coastal Carolina University), Jack Grabek (Bucknell University), or Troy Montemayor (Baylor University) to the first 200 fans. Finally, the Dutchmen will be hosting the Multiple Sclerosis Walk and Fundraiser rescheduled from July 9th. First pitch is scheduled for 5:05 p.m. for game 1.