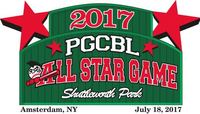 3/2/17
AMSTERDAM, N.Y. – Perfect Game Collegiate Baseball League (PGCBL) President Jeff Kunion and Amsterdam Mohawks President and General Manager Brian Spagnola are pleased to announce that the reigning league champions will host the 2017 PGCBL All-Star Game at Shuttleworth Park on Tuesday, July 18.
The 2017 PGCBL All-Star Game will once again pit the top players from the East Division against the best from the West Division, a format that has been used in five of the six previous games. To date, the East boasts an unblemished 5-0 record against its Western rivals, and all six All-Star Game MVPs have come from teams in the East Division.
Shuttleworth Park will be the home of the PGCBL's Midsummer Classic for the second time, as the Mohawks also held the event at their home ballpark during the 2012 campaign. In addition to the traditional All-Star Game, which is slated to begin with first pitch at 7:10 p.m., Amsterdam will host a variety of other events in what has been coined as the "First Annual PGCBL Baseball Fest."
For the first time in league history, a PGCBL Prospect Game will be held in conjunction with the All-Star Game. The contest is designed to showcase the top professional prospects from each team in front of the many fans and scouts in attendance. The first-ever PGCBL Prospect Game will open the day-long list of baseball action, beginning promptly at 12:30 p.m.
"The PGCBL All-Star Game has always been a showcase for the future stars of professional baseball," Kunion said. "More than 50 percent of the players selected have gone on to professional baseball careers. This year, we added the Prospect Game to showcase some of the league's exceptional young talent, those who project to be MLB draftees but have not had enough exposure to be considered All-Stars."
Following the Prospect Game, players will have a chance to work out in front of scouts with batting practice and timed 60-yard dashes. New to the 2017 All-Star Game festivities is the Skills Competition, which will be held for both local Little League players and the PGCBL standouts. The youngsters and All-Stars will be put through a variety of drills to test specific skills, including catchers' accuracy on throws to second base, velocity on throws from shortstop, quickest double plays turned, pitching accuracy, distance throws from outfield to home plate, and fastest time around the bases.
Also on the docket for the 2017 PGCBL Baseball Fest is the annual Home Run Derby. Each of the league's 13 teams will be represented by one player, who will slug it out against his counterparts to see who can hit the most dingers. Right-handed hitters have a short porch in left to aim for, but they'll have to contend with Shuttleworth's infamous 26-foot-tall fence that towers over left field. The 2017 Home Run Derby, presented by the River Ridge Living Center, will begin at approximately 5:35 p.m.
"Amsterdam is proud to host the 2017 PGCBL All-Star Game and to showcase the league's top talent at our facility," Spagnola said. "With the addition of the Prospect Game and other festivities, we should really be able to provide both pro scouts and fans with a great day of baseball."
Fans interested in purchasing tickets for the 2017 PGCBL All-Star Game should contact Spagnola at [email protected] or by phone at (518) 791-7546. More information can also be found on the team's website, www.amsterdammohawks.com.
Here's a full breakdown of events for the 2017 PGCBL Baseball Fest and All-Star Game:
Infield/outfield practice for PGCBL Prospect Game: 11:30 a.m. – 12:15 p.m.
Intros for PGCBL Prospect Game: 12:15 p.m. – 12:30 p.m.
PGCBL Prospect Game: 12:30 p.m. - 3:00 p.m.
Batting practice for PGCBL Prospect and All-Star teams: 3:00 p.m. – 4:20 p.m.
60-yard dash times for all PGCBL players/Skills Competition for local Little Leagues: 4:20 p.m. – 5:00 p.m.
PGCBL Skills Competition: 5:00 p.m. – 5:35 p.m.
PGCBL Home Run Derby, sponsored by River Ridge Living Center: 5:35 p.m. – 6:25 p.m.
Infield/outfield practice for PGCBL All-Star Game: 6:25 p.m. – 7:00 p.m.
Intros for PGCBL All-Star Game: 7:00 p.m. – 7:10 p.m.
2017 PGCBL All-Star Game: 7:10 p.m.
About the PGCBL:
The Perfect Game Collegiate Baseball League is a 13-team summer collegiate baseball league in Upstate New York. Since its inaugural season in 2011, the PGCBL – which annually draws talent from some of the best NCAA, NAIA, and junior college programs – has quickly evolved into the premier wood bat league in the state of New York, while becoming one of the most widely respected summer leagues in the country. The PGCBL is affiliated with Perfect Game, the nation's largest independent amateur scouting bureau. Last year, there were more than 1,500 players in the pros who either wore the uniform of a PGCBL team or participated in a Perfect Game event. For more information, please visit www.pgcbl.com.