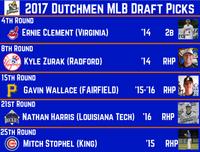 June 14th, 2017
Albany, NY: Over the past three days, a franchise record five names were called in the 2017 Major League Baseball Draft: Ernie Clement (4th round, Cleveland Indians), Kyle Zurak (8th round, NY Yankees), Gavin Wallace (17th round, Pittsburgh Pirates), Nate Harris (21st round, Colorado Rockies) and Mitch Stophel (25th round, Chicago Cubs). The Dutchmen have now amassed 22 MLB draft picks, including 13 in the past 3 years, and over 30 former players have signed professional contracts.
A member of the Dutchmen team in 2014, Ernie Clement came to Albany before ever playing an inning of college ball. After graduating from Brighton High School, Ernie proved his natural abilities by hitting .315 against top level college talent, while scoring 12 runs in 19 games and striking out only twice. His impressive contact skills would be on display over the 179 games he started over three seasons for the University of Virginia, finishing his career with only 31 strikeouts in 745 at-bats. According to a scouting video of MLB.com, "He has proven to be one of the toughest college hitters to strike out." A World Series champion in 2015, Clement hit .315 this season with the Cavaliers, netting two home runs and 34 RBIs.
Clement's teammate on the 2014 Dutchmen, Kyle Zurak, heard his name called next. A reliever throughout most of his career at Radford University, Zurak served as the Dutchmen closer, earning six saves over 15 appearances, while striking out 19 batters in 17 innings. With a 95 mile per hour fastball, Zurak put together his best collegiate season this year, finishing with a 2.40 ERA and a 10.9/K9 rate over 60 innings of work. He even started some games down the stretch for Radford, earning the start in the Big South Championship game victory and a regional game in Louisville.
Next off the board was a two-time Dutchmen, 2015-16 right-handed pitcher Gavin Wallace from Fairfield University, who will now join his brother Mike in the Pirates organization. A key contributor for the Dutchmen across two seasons, Wallace started six games in the 2015 summer, earning two wins and tossing one complete game, while also getting the start in the Dutchmen's lone playoff game. While consist and reliable during that summer, he hit his stride in 2016 for the 28-win Dutchmen team. Starting six games again, and also winning two again, Wallace compiled a 2.45 ERA, striking out 27 hitters in 33 innings. He also threw 8 innings of one run baseball in a Dutchmen playoff victory, striking out seven and walking only one batter. In his final season at Fairfield, Wallace served as the team's ace, starting 14 games while going 8-5 with a 3.08 ERA and allowing only a .252 batting average against over 90 innings.
Later on day three of the draft, Wallace's 2016 Dutchmen teammate Nate Harris, from Louisiana Tech, was selected in the 21st round by the Colorado Rockies. A reliever for the beginning of his college career, Harris served as a key member of last summer's dominant bullpen in Albany. He made 12 appearances, finishing with a 2.13 ERA over 25.1 innings, while striking out 27 and walking only five. He was also the team's best reliever in the playoffs, throwing 3.1 scoreless innings over three games, while securing two wins. Harris was also successful as a reliever for Louisiana Tech before being moved into the starting rotation during the 2017 season and really taking off. He finished with the highest winning percentage was tied for most wins in Conference USA with nine. He was also top-five in strikeouts with 94 and finished with a 2.31 ERA and a .226 batting average against over 93.2 innings, which was enough to make him third-team All-American and a finalist for the Golden Spikes Award.
Another 2015 Dutchmen came off the board in the 25th round when Mitch Stophel was selected by the World Champion Chicago Cubs. A tall right-hander from King University, Stophel was a mid-summer addition to the Dutchmen that year, making three appearances towards the end of the summer, while striking out seven batters across six innings and earning a 1.50 ERA. As a closer for King University, Stophel appeared in 19 games this season, earning three saves while striking out 45 batters in 38 innings and allowing only a .266 batting average against. A former starter as a Junior, Stophel's versatility will earn him even more opportunities at the next level.