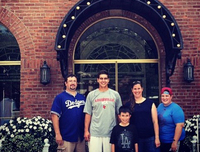 The Albany Dutchmen are saddened by the death of a member of the Albany Dutchmen community. Shawn Stannard passed away on Monday, July 3rd from complications resulting from a rare blood disorder.
Shawn was a great friend of the Dutchmen. He united his passions of baseball and photography with the Dutchmen for several years, serving as one of the team's photographers.
In addition to his work behind the camera, Shawn and his family hosted 2015 Dutchmen, Michael Bollmer (Louisville). The Dutchmen was just one of the ways Shawn enjoyed time with his family.
When Shawn was not working at Albany Medical Center, he enjoyed spending his free time with his family. Shawn's son, Shea, has been the Dutchmen batboy on many occasions. He coached his son in baseball and hockey, their two favorite sports.
The Stannard family requests donations to Shea's college fund in lieu of flowers. All funds can be sent to Shea Stannard Educational Fund, at Cap Com FCU, 4 Winners Circle, Albany, New York 12205.
The entire Albany Dutchmen organization joins the Stannard family in mourning the loss of a tremendous father, husband, friend, and photographer. The Dutchmen send our sincerest condolences to the Stannard family during this difficult time.