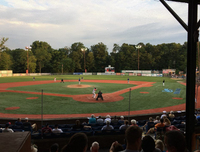 July 7th, 2017
AMSTERDAM, N.Y.- Jake Mueller (Wake Forest) hit a homerun for the Mohawks in the bottom of the first inning on just the second batter Dutchmen starter Sean Boyle (Dallas Baptist) faced. It proved to be the winning run of the game as the Amsterdam Mohawks (22-7) went on to shutout the Albany Dutchmen (17-11), by the score of 9-0 on Friday evening at Shuttleworth Park in Amsterdam.
Seven Mohawk starters recorded base hits, including multi-hit attacks from Mueller, Eric Rivera (Florida Atlantic), and Dustin Skelton (Mississippi State). Rivera was the only Amsterdam starter, however, to not score a run. The balanced Amsterdam lineup was all over Dutchmen pitchers, racking up ten base hits, including five extra base hits and two homeruns.
In total, different players scored all nine Mohawk runs, and nine out of eleven players to enter the game scored a run.
Justin Decker (Dominican) reached safely in all three of his plate appearances for the Dutchmen, as he recorded two of the three Dutchmen hits. It boosted his batting average to .283 on the season. The other hit was a Chase Allen (Limestone) single to leadoff the ninth.
After a six run fourth inning highlighted by a three-run Anthony Gonnella (South Florida) homerun, the Dutchmen threatened for the only time of the game in the fifth inning. Consecutive two-out walks and a hit-by-pitch set up a bases loaded situation for the top of the order. However, Ben Anderson (Binghamton) came in relief to retire Brad Gneiting (Rice) to end the threat.
Anderson was the winning pitcher in relief for the Mohawks. He pitched 3.1 innings allowing just one hit and striking out three. Thomas Lane (Boston College) started for Amsterdam, but was not eligible for the win by pitching 4.2 out of the required 5.0 innings of work required for the mark. He struck out six Dutchmen hitters and allowed only one hit.
Justin Bureau (Ave Maria) prolonged his season-long streak scoreless pitching for the Dutchmen. He added 0.2 innings to his total, which now stands at 14.0.
The win extended Amsterdam's lead to 4.5 games over the Dutchmen in the East Division. Mohawk Valley swept the Friday double header with Glens Falls, and only trails the Mohawks by 2.0 games.
The Dutchmen are off on Saturday before returning home Sunday against the Saugerties Stallions for the Seventh Annual Pink Game. Fans can enjoy an auction with the chance to win game-worn pink Dutchmen jerseys. In addition, a huge raffle with many great prizes will occur throughout the evening. All proceeds will go to the American Cancer Society and Susan G. Komen for the Cure.