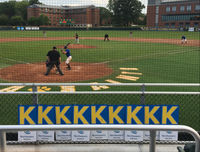 Leading 8-4 going into the top of the 9th inning, the game between the Albany Dutchmen and Glens Falls Dragons was suspended due to darkness, to be resumed tomorrow at 6 p.m.
The Dutchmen put together another strong offensive performance. Brad Gneiting (Rice) had the big blow of the five run fourth inning by hitting a three run triple to clear the loaded bases and help Albany to a 5-1 lead. The Dutchmen first took the lead in the inning after four consecutive singles by Nick Gallo (Oklahoma State), Chase Allen (Limestone), Justin Decker (Dominican), and Colin Kaucher (Ohio Dominican). Albany capped off the explosive inning against put up against Tom Taplin (Buffalo) after Nick Estrella (Azusa Pacific) stole second and third base, and scored after the throw to third by catcher Anthony Butler (St. Lawrence) was off target and went into foul territory.
The Dragons struck first against Greg Marino (Stony Brook). Ryan Beamish (Lee) recorded an RBI single with two outs to bring home the first run of the ballgame. Marino had allowed the first two runners of the game to reach base on singles but looked like he was about to work out of the jam after he retired the next two hitters prior to Beamish's RBI.
It was a shorter outing for Marino, who only lasted four innings. Marino did a good job of navigating out of jams, as he allowed baserunners in every inning but only gave up one run.
After giving up the first run of the game, the Dutchmen tied it off of Taplin in the second inning on a Decker RBI groundout. It was one of three RBI for Decker, who finished his day with two hits after bringing home two with a single in the bottom of the seventh inning.
Decker's two run single in the seventh provided the response runs for Albany, as Glens Falls scored two runs of their own in the top half of the frame on an RBI double by Brandon Torres (SUNY Oneonta) and an error committed by Estrella later that inning.
The Dragons scored their final run of the evening on an RBI walk by Beamish. The run went against Roel Garcia (Rice) who was unable to escape the eighth. Jeremiah Burke (Georgetown) finished off the inning for the Dutchmen.
The Dutchmen are back in action on Thursday against the Glens Falls Dragons again. They will resume the suspended contest at 6 p.m. and the regularly scheduled game is slated for 7:05 p.m.
Albany returns home on Saturday to take on the Amsterdam Mohawks at Siena Field. The game time is 5:05 and fans will receive a team poster, courtesy of Northeast Commercial Printing.