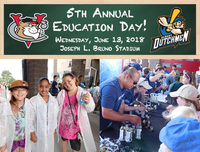 January 25th, 2018
TROY, NY- The Tri-City ValleyCats, Class A New York-Penn League affiliate of the World Series champion Houston Astros, will host the 5th Annual Education Day at Joseph L. Bruno Stadium on Wednesday, June 13, as they face the Albany Dutchmen of the Perfect Game Collegiate Baseball League.
The 2018 game will be the 4th consecutive installment of the match-up, with the Dutchmen prevailing in last year's game, 3-2. The 10:00 a.m. exhibition will be used as an opportunity to demonstrate how S.T.E.M. and other academic subjects integrate with the game of baseball, to an audience of over 25 local grade schools. It's also a chance for ValleyCats fans to get their first glimpse of the 2018 team. The game has drawn an average of over 4,300 fans since it began in 2014.
In addition to the academic aspect, the ValleyCats will use the platform to educate students on anti-bullying and character development, creating a well-rounded educational field trip.
"Being able to use one of our ballgames to provide a unique and fun learning opportunity for students across the Capital Region is a tremendous way to connect with our future leaders," said ValleyCats General Manager Matt Callahan. "We're appreciative to the Albany Dutchmen and all of our corporate partners for helping to make this day possible."
"We're excited to continue our partnership with the ValleyCats to use baseball as an educational tool for students across the Capital Region," said Jason Brinkman, Dutchmen Vice President & General Manager. "Our players look forward to the opportunity to compete against the pros that they aspire to become."
Several local organizations have helped to support these field trips for Capital Region schools, including Regeneron Pharmaceuticals and Transfinder, who have been Education Day partners since the inaugural event in 2014.
The game will include activities to educate students in areas such as science, mathematics, history and geography while demonstrating their real-world applications. This includes items on the geometry and dimensions of the field, player statistics and mileage charts for travel between the various cities throughout the New York-Penn League, historical ties to baseball in the Capital Region, and more.
The schools will join SouthPaw and his mascot friends in reciting the ValleyCats anti-bullying peace pledge, and sign a banner that will be displayed at the stadium throughout the summer.
A special curriculum has been created for local schools to download and use a precursor to the event. To learn more about how to get your school involved in Education Day, contact the ValleyCats front office at 518-629-CATS (2287), or visit tcvalleycats.com/educationday.