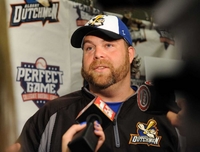 February 21st, 2018
As the seasons shift towards spring and the snow starts to melt off of Siena Field, it's time to look ahead to the start of the 2018 Albany Dutchmen season.
Head coach Nick Davey is returning to Albany for his ninth season at the helm for the Dutchmen. The team is coming off their most successful season in franchise history, posting a record of 33-16, five more wins than their previous franchise high back in 2016. Davey took over a team that posted a record of 14-24 in 2010 and has improved the Dutchmen into a consistent, perrenial power.
In his nine seasons in the Capital District, Davey has posted a regular season record of 187-187. Davey is set to reach and surpass his 200th career win with the program this summer. He also looks to continue the current streak of 5 consecutive post season appearances.
"I'm ecstatic to start my ninth season with the Dutchmen organization" Davey said. "Coming off our best season in program history, we can only go up from here. The sky is the limit on what we can accomplish this summer."
Albany's 2017 pitching staff was highlighted by Matt Pierce (Siena), who was named the 2017 PGCBL Pitcher of the Year back in August. Pierce started the season out of the bullpen and posted a 4-0 record when coach Davey knew he needed to make a change. He knew he needed to add Pierce to the starting rotation.
Pierce finished the season 8-1 with a 1.71 ERA and 26 strikeouts in 42 innings pitched. His only loss came in an outing he didn't allow an earned run. Pierce is the first player in Dutchmen history to be named Pitcher of the Year.
"I couldn't be happier for Matt and everything he accomplished last season," Davey said. "He earned this. It wasn't given to him."
Albany continues to be a stomping ground for major league talent as five Dutchmen, including University of Virginia infielder Ernie Clement (4th round, Cleveland Indians) and Radford hurler Kyle Zurak (8th round, New York Yankees), were selected in the 2017 MLB Draft. Davey has now coached more than 20 MLB draft picks during his tenure.
For the third consecutive season, the Dutchmen will face off against the Tri-City ValleyCats, the Single-A affiliate of the 2017 World Series Champion Houston Astros, in an exhibition game this summer. In one of the highlights of the 2017 campaign, the Dutchmen knocked off the ValleyCats 3-2 at Joe Bruno Stadium last June. Over 4,000 screaming kids were in attendance for last year's Education Day game.
Davey raves about the Education Day game against the ValleyCats, as it gives his players an opportunity to go up against professional baseball talent.
"I truly believe it's the one of the most important games of the entire summer," Davey said. "You can't replicate the opportunity to go up against professional baseball players."
Coach is extremely passionate about his team giving back to the community. The team prides themselves on being a staple in the Albany area and providing a place for families to go with their children to enjoy a baseball game.
With events like the ValleyCats exhibition game as well as the Annual Pink Game for breast cancer awareness and the Phillips Hardware Baseball Buddies program (which allows local youth baseball and softball teams to participate in pre-game warmups and run onto the field with Dutchmen players), the team has excelled in providing fun and affordable entertainment, while giving back to the local community.
Davey looks back at his time with the Dutchmen and is proud to say he's seen the team get better each and every season he's been at the helm. He's confident this season, the 10th anniversary of the team, will be their best ever.
"The goal is to bring a Perfect Game Collegiate Baseball League Title to the Albany area," Davey said. "Our staff is working every day to put a team together to help us reach that goal."
Davey is the longest tenured head coach in program history. The team has only had one other head coach, Ryan Horning, who coached for one season in 2009.
With Davey as head coach, the Dutchmen reached the PGCBL Playoffs East Division Finals in 2016 and 2013, as well as Semi-Final appearances in 2014-15.
A former collegiate baseball player himself, Coach Davey is a two time team captain and two time all conference pitcher right here in Albany at the College of Saint Rose. During his time with the Golden Knights, he also played in the DII College World Series.
"We're absolutely thrilled to have Coach Davey return for his 9th season," Vice President and General Manager Jason Brinkman said. "His leadership, hard work, and dedication to the Dutchmen on and off the field has been incredible. We're extremely lucky to have him as our head coach."
Davey is also a teacher at Albany High School. He lives with his wife Chrissy and tehir sons Drew (3) and Ty (1) in nearby Delmar, NY.