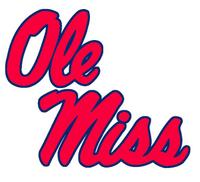 Currently ranked No. 5 in the country with a 20-2 record, Ole Miss will send three players to Albany this summer for the upcoming 2018 season. With a 20-2 record on the season and currently second place in the SEC West, the University of Mississippi baseball team continues to establish themselves as a top D-1 baseball program in the country for 2018. A large part of the success of the program stems back to the high caliber of talent produced by Ole Miss year after year. The Albany Dutchmen are ecstatic to announce the signings of three freshman Ole Miss Rebels for the club this summer at Siena Field: pitchers Max Cioffi and Emanuel Fernandez along with utility man Golston Gillespie. All three players are current teammates of former Duchmen Michael Fitzsimmons.
Rated the No. 15 overall prospect in the state of Georgia and No. 3 catcher by Perfect Game, Golston Gillespie's impressive resume speaks for itself. Gillespie, a 2017 Rawlings-Perfect Game Honorable Mention All-American (Southeast Region), hit .327 in his high school career with 82 RBI, 14 home runs and 97 hits. He also helped the Red Raiders to the Class 4A region championship as a senior, where he batted .317 with 17 RBI.
Gillespie was also named first team all-region and to the all-state team following his senior campaign. While his primary position is catcher, Gillespie, a switch-hitter, also plays first base and outfield - bringing versatility all over the field for the Dutchmen.
Max Cioffi is a right handed pitcher from Chicago, Illinois. Cioffi established himself as a pivotal part of the Saint Patrick High School pitching rotation during his three years as a letterwinner. Cioffi went 9-4 in his high school career with a 2.91 ERA. He was named all-conference as a junior and senior and earned team MVP honors as a sophomore and senior. As a senior, he led the team with 85 strikeouts, going 5-2 with a 3.22 ERA.
In four appearances for Ole Miss this season, Cioffi hasn't allowed a run in 5 IP for the Rebels.
Emanuel Fernandez, the No. 15 LHP in the state of Florida by Perfect Game, joins the Dutchmen this summer after an impressive two year career at Park Vista Community High School. Fernandez also received 2017 Rawlings-Perfect Game Honorable Mention All-American (Florida Region) recognition.
During a dominant senior season, Fernandez went 5-1 with a .70 ERA in 49.2 IP, earning most outstanding pitcher and offense awards. His junior season was just as impressive, finishing 4-0 with a 1.26 ERA in 44.1 IP.
The Dutchmen are excited to bring three extremely talented and highly recruited players from Ole Miss to Siena Field this summer.