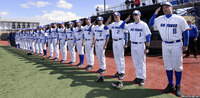 The Air Force Falcons have continued to trend in an upward direction in the Mountain West conference, coming off back to back winning seasons in 2016-17 for the first time since 1994-95. The Albany Dutchmen are excited to announce the signings of two pitchers from the Air Force Falcons: Jake Gilbert and Steven Plaskett will be joining the Dutchmen during the 2018 season. Both players will be with the team for three weeks before returning to school for military obligations.
Gilbert is currently 3-2 with 15 strikeouts in 13 appearances over 17.2 innings pitched this season. In an armed forces matchup vs Navy on February 25, Gilbert pitched the final three innings, allowing just two hits and picking up the win in relief for Air Force.
The junior right hander has impressed both on and off the field for the Air Force Falcons last season. On the field, he tied for the team lead with 24 pitching appearances for the Falcons, all coming out of the bullpen. He struck out 21 batters in 27.1 innings pitched while allowing no earned runs in 11 appearances. Off the field, Gilbert was honored as a 2017 Academic All-Mountain West award winner.
In his freshman season back in 2016, the story was the same for Gilbert. He pitched in six games, striking out seven batters in five innings pitched while not allowing a run in three outings.
Before his time with the Falcons, Gilbert was named a Perfect Game Second Team All-Southeast choice as a senior at Lakeside High School in Evans, Georgia.
Plaskett, a right-hander now in his third year with the Falcons, has proven to be a strong pitcher coming out of the bullpen.
In a successful 2016 campaign, Plaskett made ten appearances for Air Force, striking out four batters in 11 innings pitched.
Before his time at Air Force, he was selected as a 2015 Perfect Game All-American Honorable Mention. During his junior season, Plaskett received First Team All PCAC North honors at East Lake High School in Palm Harbor, Florida.
The Dutchmen are very happy to have the additions of two veteran and experienced pitchers at the collegiate level joining the squad this summer.