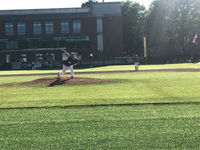 ALBANY, N.Y- Five Dutchmen starters had multi-hit games as the Albany Dutchmen (1-0) opened their 2018 Perfect Game Collegiate Baseball League (PGCBL) season by defeating the Oneonta Outlaws (0-2), 12-5.
Jerry Huntzinger (Seton Hall) went 2-for-3 with a home run, two RBI, a pair of walks, and three runs scored. Brandon Seltzer (Palm Beach Atlantic) finished 2-for-5 with a game-high four RBI, a homer, two stolen bases, and three runs scored.
Albany struck first in the first inning when Seltzer reaches on an infield error and later scored on a passed ball. Oneonta answered with two in the second off Dutchmen starer and defending PGCBL Pitcher of the Year, Matt Pierce (Siena), on the strength of three consecutive singles before a groundout scored Nick Amor (Marist), who started the rally with a double. The second run was scored one batter later on a wild pitch.
Pierce earned his first win of the campaign. Over five innings, he allowed three runs, two earned, while scattering nine hits, two walks, and four strikeouts. Dan Yankowski (Albany) started for the Outlaws and took the loss. He surrendered six runs, two earned, over three and two thirds innings. He allowed three hits and three walks with two strikeouts.
With the Dutchmen trailing 3-2 in the bottom of the fourth, Selzter hit a three-run home run to highlight the five-run inning. Albany out-paced Oneonta 6-2 over the final five innings to confirm the victory.
Cameron Masterman (Louisville) finished 2-for-3 with a stolen base and two runs scored, while Zach Durfee (Siena) was 3-for-4 with a walk, a stolen base, and two runs. Nick Jacques (Le Moyne) finished 3-for-5 with an RBI and a run. Dutchmen baserunners were 6-for-6 on stolen base attempts.
Nick Cummings (North Alabama) pitched three hitless innings to earn the nine-out save. He surrendered a walk and had two strikeouts.
The Dutchmen and the Outlaws will meet again Sunday at Connors Park at Siena College with a 5:05 p.m. scheduled start time.