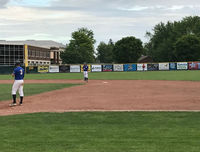 ALBANY, N.Y- With the Oneonta Outlaws (0-2) leading the Albany Dutchmen (1-0), 12-5, with one out in the top of the eighth, the contest was suspended due to darkness.
The game will be resumed on Sunday, June 24th, at 4 p.m. when the Dutchmen are scheduled to host Oneonta next. The regularly scheduled 5:05 p.m. game will be played immediately following.
Oneonta scored eight runs in the fifth to propel the scoring. The first seven hitters reached base and scored by the strength of a three-run triple by Kenny Hayden (Albany). The inning was also assisted by five singles, three walks, and a hit by pitch.
After the Outlaws scored in the top of the first, the Dutchmen knotted the score at one when Brandon Seltzer (Palm Beach Atlantic) was hit by a pitch, stole second, and later came around to score when Cameron Masterman (Louisville) bounced out.
In the second inning, the Dutchmen took a 2-1 lead on a Seltzer double that scored Nick Jacques (Le Moyne), who singled and stole second with one out.
That score held until the fifth when Oneonta batted around for the eight-spot.
With the game still in progress, Griffen Herrera (Azusa Pacific) is 2-for-4 for the Dutchmen with an RBI and a hit by pitch. Cameron Collett (Marshall) is 2-for-5 with a stolen base, and Seltzer was replaced after finishing 1-for-2 with an RBI, two stolen bases, and a run scored.
Cassius Young (George College) is 2-for-4 with a pair of walks and three runs scored for the Outlaws. Parker Hendershot (Penn. State) and Noah Cabrera (Towson) are each 2-for-4 with a walk and two runs scored.
If the Outlaws hold on for the win, Zack Bowers (Erskine) is the pitcher of record. He went two innings and allowed one hit and hit two batters but did not allow a run.
Deaven Phillips (Tampa) started for the Dutchmen and went four innings and allowed two runs on four hits. He walked five and had one strikeout. Ryan Greco (Brockport) pitched in the fifth for Albany and is the pitcher of record.
Oneonta added one in the sixth, one in the seventh, and had scored one in the eighth when the game was suspended. They have runners on second and third with one out and Hendershot due up.