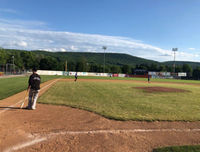 ONEONTA, N.Y- Justin Wright (St. John's) hit an RBI single to to give the Dutchmen the lead to highlight a four-run top of the eighth inning as the Albany Dutchmen (4-2) rallied from behind to defeat the Oneonta Outlaws (4-3), 9-6 in PGCBL action on Saturday.
Golston Gillespie (Ole Miss) ripped a double down the left field line to tie the game at six two batters before Wright hit the game winner.
The Dutchmen took advantage of two Outlaw errors in the first inning and with the help of a Ubaldo Lopez (Dartmouth) double, took a 3-0 lead.
Oneonta scored two in the second before erupting for four in the bottom of the fourth to take a three run lead.
The Dutchmen inched closer with single unearned runs in the sixth and seventh before the rally in the eighth swung the game in Albany's favor.
Nick Bird (Albany) evaded trouble in the seventh when Oneonta loaded the bases with one out. A fly ball to center fielder Zach Durfee (Siena) was not far enough to get home what, at that point, was an insurance run at third base. Bird induced a ground out one batter later to escape the jam.
Cole McNamee (Wake Forest), who began the game as the Designated Hitter, came in to pitch with two outs in the eighth inning. He got a strikeout to end the threat before retiring the side in the ninth to earn his first save of the season.
The Dutchmen return home on Sunday to take on the Mohawk Valley DiamondDwags, the defending PGCBL Champions and the team that defeated the Dutchmen in the 2017 playoffs. The Dutchmen will be celebrating their 10th Anniversary with first pitch scheduled for 5:05.