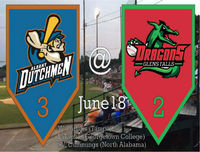 GLENS FALLS, N.Y. - The Albany Dutchmen (8-5) defeated the Glens Falls Dragons (8-6) in a close 3-2 game in PGCBL action on Tuesday night.
Dutchmen starter Deavan Phillips (Tampa) threw a strong six and one-third innings, of no-hit ball, with five strikeouts and only three walks.
Albany struck early on in the game when Lucas Dunn (Louisville) connected on one of his two hits on the night, a two RBI triple that plated Golston Gillespie (Ole Miss) and Justin Wright (St. John's) in the second inning.
The Dutchmen would add another run in the fifth inning on a Cameron Collett (Marshall) single to left field that scored Wright.
The Dragons battled back in the bottom of the ninth. Danny Ryan (Fairfield) scored on an error, and Phoenix Hernandez (Southern New Hampshire) scored on a fielder's choice to make it a one-run ballgame, but that would be all Glens Falls could muster as Nick Cummings (North Alabama) got Zach Fritz (LIU Post) to fly out to center field.
Dunn led the offense for Albany, going two-for-three with two RBI. Collett added one hit in two at-bats and also drew a walk.
Phillips earned the win on the bump for the Dutchmen, while Cummings earned his second save of the season.
The Dutchmen are back in action tomorrow night in Oneonta to take on the Outlaws, with a first pitch time set for 7:05 pm.