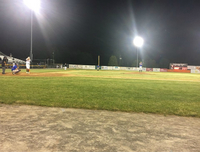 ONEONTA, N.Y.- The Albany Dutchmen (9-5) overcame a 12-4 deficit after six innings and scored five in the seventh, and six in the eighth to take a 15-14 lead, and ultimately went on to defeat the Oneonta Outlaws (6-6), 16-14.
The Dutchmen tied the game on a bases-loaded, four-pitch walk to Jerry Huntzinger (Seton Hall) in the top of the eighth before Nick Jacques (Le Moyne) hit a sacrifice fly to right to give Albany the lead.
Cameron Masterman (Louisville) led the way for the Dutchmen offensively by going 4-for-5 with two runs and three RBI. Lucas Dunn (Louisville) was 2-for-6 with three runs and three RBI.
The Outlaws took a big lead early, with the pace being set by lead off home run by Derek Orndorff (Penn State) in the bottom of the first. Oneonta scored three more in the first to take an early 4-0 lead. The Dutchmen countered with two in the second before another four-spot gave Oneonta an 8-2 lead.
Jacques' first sacrifice fly in the fourth inning, followed by a run-scoring passed ball made the score 8-4 before Oneonta then put together their third four-run inning of the contest in the fifth to give them a 12-4 lead, their largest of the ballgame.
Cassius Young (Georgia College) finished 4-for-4 for the Outlaws, with four runs and two RBI. Steve Minter (Georgia) was 2-for-3 with two runs, two RBI, and two walks.
In the seventh inning, the Dutchmen scored five runs, highlighted by a Ubaldo Lopez (Dartmouth) three-run single with two outs, the bases loaded, and a full count. Lopez was 2-for-4 with three runs and a game-high five RBI.
A pair of runs in the bottom of the seventh on a double steal and a fielder's choice RBI once again left Oneonta feeling like they put the game away, but Albany completed the comeback in the top of the eighth, scoring six runs.
With Griffen Herrera (Azusa Pacific) at second and Cameron Collett (Marshall) at third, an infield error scored them both but the lead back to three. Then, with the bases loaded, Lopez walked for the first of two consecutive bases loaded walks, and a wild pitch cut the Oneonta lead to one.
Nick Grabek (Fairfield) weathered the storm in the bottom of the seventh before tossing a 1-2-3 inning in the eighth to earn the win, his first of the season. Cole McNamee (Wake Forest) pitched an eventless ninth inning for the save, his second of the campaign.
The Dutchmen will return home on Thursday to host the Saugerties Stallions at 5:05 at Connors Park at Siena College for Bacon Night.