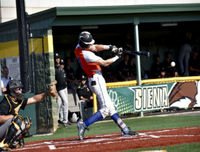 ALBANY, N.Y.- Cameron Comer (Virginia) hit a two-run double to highlight a three-run seventh inning as the Saugerties Stallions (8-9) mounted a 5-4 comeback victory over the Albany Dutchmen (9-6).
The Dutchmen took an early lead in the bottom of the first inning following three consecutive singles to begin the inning, including an RBI single by Cameron Masterman (Louisville). Two batters later, Jerry Huntzinger (Seton Hall) hit an RBI fielders choice followed by a run scoring double by Golston Gillespie (Ole Miss) over the head of the left fielder.
Saugerties got one back in the fourth inning when Tyler Kelder (St. Bonaventure) scored on a wild pitch after leading off the frame with a single.
The Stallions got to within one in the sixth after Derek Ripp (Arkansas) led off with a double and scored two batters later on a Noah Searcy (Georgia Southern) ground out.
In the seventh, a hit-by-pitch and walk put runners on first and second for the Stallions. Comer's double swapped a one run lead into a one run advantage. Then, with two outs, Easton Bertrand (Minnesota) hit an RBI double to score Comer, which turned out to be the winning run.
Bertrand finished 3-for-4 with an RBI, while Comer was 2-for-5 with two RBI and a run.
Ubaldo Lopez (Dartmouth) hit a home run to lead off the bottom of the eighth inning to cut the deficit to one, it was his second long ball of the season. The Dutchmen then put runners on second and third with one out and loaded the bases with two outs, but Dillon Good (Lock Haven) escaped trouble with an unassisted ground out to first base.
Good went on to pitch a 1-2-3 ninth inning to earn the save. Sam Byrns (Le Moyne) won the game in relief for the Stallions. He pitched three one-hit innings with a strikeout and no walks. Max Hunter (Dartmouth) started and pitched four innings of three-run ball in the no-decision. He surrendered seven hits and three walks with two strikeouts.
Nick Bird (Albany) took the loss for Albany. He allowed three runs, two earned, on three hits and a walk in two thirds of an inning. Max Cioffi (Ole Miss) pitched the rest of the way and retired all seven batters he faced with three punch outs. Greg Marino (Stony Brook) started and allowed two runs on seven hits with a walk and five strikeouts in the no decision.
Lopez was 1-for-4 with the home run and a walk for the Dutchmen, while Nick Jacques (Le Moyne) was 2-for-3 with a walk.
The Dutchmen will return to Glens Falls on Friday to play the Dragons before returning home on Saturday at 5:05 against the Amsterdam Mohawks for a Cup Giveaway, Courtesy of Albany Clothing & Promotions.
Saugerties will play at home on Friday against the Watertown Rapids at 7:05.