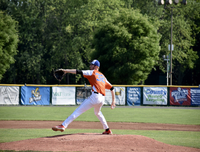 Greg Marino has picked up where he left off for the Albany Dutchmen.
The Stony Brook sophomore has been dominant in his first two starts for the Dutchmen. He allowed one unearned run on three hits and struck out 11 batters in a 2-0 loss at Amsterdam June 8, and he tossed six innings of four-hit ball with seven K's in Albany's 9-1 victory at Saugerties June 15.
Marino said returning to Albany for a second season in the Perfect Game Collegiate Baseball League was a no brainer.
"I really liked the atmosphere and what the coaches brought to the team (last year)," said Marino. "The winning culture and how they treat you like family – that was the biggest thing."
Marino came to Albany last year looking to work out some mechanical issues that cropped up during his first season pitching for Stony Brook, where he posted a 2-3 record with a 4.18 ERA and 58 strikeouts in 60.1 innings.
"My breaking ball wasn't great," said Marino. "Coach (Nick) Davey worked on my breaking ball, and it became an effective third pitch."
Marino struggled in his first career start for the Dutchmen in 2017, allowing three earned runs in three innings against Glens Falls. His next five starts went much better than his first, though, as he allowed a total of three runs over 29.1 innings pitched and compiled 34 strikeouts.
Marino earned the start in Albany's playoff game against Mohawk Valley and allowed one run on two hits in six innings of work. He did not pick up the decision in the Dutchmen's 4-3 loss to the Diamond Dawgs.
Marino took what he learned with Albany back to Stony Brook, and the improvements he made with the Dutchmen showed with the Sea Wolves this spring. Marino went 7-2 in his 16 starts with 68 strikeouts and 25 walks allowed in 87.1 innings pitched. He started twice during Stony Brook's run in the America East Tournament, allowing two runs in 12 innings and earning a spot on the All-Tournament Team.
"I thought much of my success (this spring) was on account of pitching tough late in counts and late in games, which is something I learned to do last summer," said Marino.
Marino won't be staying with the Dutchmen the whole season this time around. He said he is on a pitch limit this summer to keep himself in shape for his junior year at Stony Brook. While he's with Albany, though, he said he has personal goals to focus on.
"This year, I want to polish all three of my pitches and pitch late into games," said Marino. "Mostly, I want to work deep into games consistently."
Even though he won't be playing the entire PGCBL season, Marino will be watching the Dutchmen as they attempt to make a run at the league title. For Marino, it's all about being part of the family.
"I would say the best part of summer ball is meeting new guys," said Marino. "The new guys and the coaches greet you with open arms."