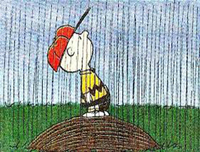 ONEONTA, N.Y.- Today's game (Wednesday, June 27th) on the road against the Oneonta Outlaws has been postponed due to rain.
Today's regularly scheduled game will be made up as part of a doubleheader (two seven-inning games) on Monday, July 23rd. Game one will begin at 5:00 pm.
The continuation game that was suspended due to darkness on June 3rd with Oneonta leading 12-5 in the eighth inning will be completed on a date and time to be named later.
The Dutchmen will return home on Thursday to host the Elmira Pioneers at 5:05. In addition to the regularly scheduled Stewart's Ice Cream Night, SEFCU Hometown Heroes Night, as well as the Souvenir Cup Giveaway will take place on Thursday.