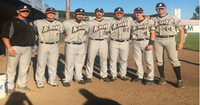 ELMIRA, N.Y.- Six Dutchmen players participated at the 2018 PGCBL All-Star Game festivities on July 18th in Elmira, home of the Pioneers.
All players in attendance, representing all 13 teams in the league, participated in a pre-game workout with scouts from every MLB team represented.
Dutchmen outfielder Ubaldo Lopez (Dartmouth) was the team's participant in the Home Run Derby. Allen Murphy (St. John Fisher), from the Newark Pilots, won the Derby crown.
In the traditional game, the West defeated the East, for the first time in the modern All-Star Game format, by the score of 8-5.
Alex O'Donnell (Mercyhurst), from the Jamestown Jammers, took home MVP honors.
Lucas Dunn (Louisville) started for the East at second base. In three plate appearances, Dunn reached safely once on a walk.
Cameron Masterman (Louisville) scored one of the East's five runs in the seventh inning, which cut into the West's 8-0 lead, after reaching on a walk.
Deaven Phillips (Tampa) and Ryan Greco (Brockport) each pitched an inning without allowing a run. Greco, who leads the Dutchmen in strikeouts, impressed by striking out the side in the bottom of the third inning.
Phillips, who is 3-1 with a 1.66 ERA on the season, his second year with the Dutchmen, retired the side in the fifth inning without allowing a hit. A runner reached on an infield error, but three pop ups kept the West off the board.
Catcher Jerry Huntzinger (Seton Hall) caught the middle three innings for the East. He is hitting .289 on the year with Albany and leads all catchers in the league with ten stolen bases.
Lopez played the second half of the game in left field, where he has played error-free ball all season. He leads the Dutchmen fleet with five home runs.
Dutchmen Assistant Coach, Sean Buchanan, who is in his third year with the Dutchmen, managed the East. Before that, Buchanan was an assistant with the Cooperstown Hawkeyes, formerly a member of the PGCBL.
With just under two weeks remaining in the season, the All-Stars have returned to their respective teams, where seven teams will advance to the PGCBL Playoffs, beginning on August 1st.