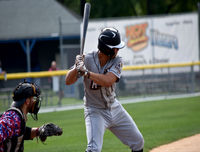 SAUGERTIES, N.Y. - The Saugerties Stallions (21-18), propelled by an infield error that let in the game-winning run, defeated the Albany Dutchmen (20-15) in a come-from-behind victory by a score of 5-4.
The game was scoreless until the top of the fourth, when Justin Wright (St. John's) doubled in John Malcom (Vanderbilt) and Zach Durfee (Siena). Lucas Dunn (Louisville) added a double of his own, scoring Wright, which brought the score to 3-0 Albany.
The Stallions wouldn't respond until the fifth, finally putting a dent in starter Max Cioffi's (Ole Miss) armor. He had thrown four no-hit innings up to this point, but allowed a single, double, and sacrifice-fly to the first three hitters of the inning. Jordan Kozicky (Minnesota) then hit a two-run double with two outs to tie the game at three. An RBI-single by the next batter, Cameron Comer (Virginia), gave Saugerties its first lead.
Nick Estrella (Asuza Pacific) responded in the seventh with a solo home-run to tie the game at four.
The Dutchmen entered the eighth with Dalton Harvey (Illinois State) on the mound, who recorded two outs, before giving the ball to Nick Bird (UAlbany) with a runner on third. Noah Searcy (Georgia Southern) hit the ball to the shortstop, but an error allowed him to reach first base, and the runner from third to score.
The Stallions wouldn't waste their new lead, as closer Zach Strickland (Georgia Southern), retired Albany's top-of-the-order in a row to close out the win for Saugerties.
Stallions starter, Nick Zwack (Xavier), threw five innings of six-hit baseball, surrendering three earned runs, while walking four and striking out eight. He was relieved by Logan Teske (Angelo State), who gave up one run over two innings. Dillon Good (Lock Haven) (1 IP, 1 H, 2 K) and Strickland (1 IP, 1K) pitched the remainder of the game.
Cioffi (5 IP, 5 H, 4 ER, 1 BB, 5 K), who struggled in the fifth, was replaced by James Rubino (HVCC) in the sixth. He went one and two thirds of an inning, allowing one hit and recording one strikeout. Harvey (1.1 IP, 1 H, 1 BB) and Bird (0.1 IP) finished the pitching duties for Albany.
The Dutchmen play in Oneonta tomorrow before returning home on Tuesday to face the Stallions once again.