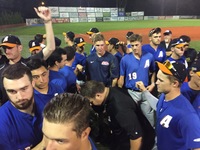 AMSTERDAM, N.Y.- After battling back from a seven-run deficit, the Albany Dutchmen finished their 2018 season with a dramatic 9-8 walk-off loss to the Amsterdam Mohawks in the PGCBL Quarter-Finals.
The game was delayed two hours and ten minutes due to rain before the game duration nearly surpassed four hours.
The Mohawks have advanced to the PGCBL Semi-Final round for a best-of-three series with the Watertown Rapids beginning Thursday evening in Amsterdam. Amsterdam is seeking their fifth PGCBL title in the last seven years. They have won at least one playoff game in each season since the PGCBL began in 2011.
After plating one in the first inning, the Mohawks erupted for six in the second aided by a pair of errors, two walks, and three hits. Tanner Allen (Mississippi State) hit a bases clearing, three run double to lead the charge.
The Dutchmen got four back in the top of the third, highlighted by a three-run home run by Cameron Masterman (Louisville), the recently crowned 2018 Albany Dutchmen Gally's Player of the Year and the final PGCBL Player of the Week.
Albany completed the comeback one inning later after a pair of opening hit-by-pitched led to a game-tying three run home run by Justin Wright (St. John's).
Neither starting pitcher made it past three innings. Deaven Phillips (Tampa) allowed seven runs, just one earned, over two and a third innings. He walked four and struck out four. Zane Stephens (Mississippi State) was charged with six earned runs over three innings for Amsterdam. He faced two batters in the fourth, who both came around to score.
In the fifth, the Dutchmen took a one-run lead when Jerry Huntzinger (Seton Hall) singled, moved to second on a wild pitch, and came around to score on an overthrown ball.
Following Allen's second double in the bottom of the sixth, Justin Foscue (Mississippi State) hit an RBI single to knot the score at eight.
Dalton Harvey (Illinois State) came on in relief for the Dutchmen with one out in the sixth and retired all eight men he faced (four by-way of strikeout) to bridge the gap to the ninth.
Jake Hammon (Morehead State) reached on an infield error with one out in the ninth. After Elvis Peralta (Marshall) walked, Mike Antico (St. John's) hit a single to load the bases. The first pitch to Richie Barrella (Manhattan) was wild and allowed Hammon to score from third for the walk-off winner.
Teddy Sabato (Manhattan) pitched the final two innings and retired all six men he faced to pick up the win for the Mohawks. Nick Bird (Albany) took the loss for the Dutchmen.