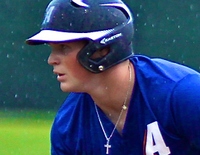 November 14th, 2018
Michael Fitzsimmons ('15 Dutchmen) was announced as team captain for Ole Miss, a preseason top ten team and favorite to make it to Omaha and the College World Series in 2019. The redshirt senior infielder was announced as the team's sole captain by Head Coach, Mike Bianco, in a team meeting this week.
After redshirting his freshman year, Fitzsimmons has been a key contributor to the Rebels' offense, playing in 96 games over his three year career and holding a combined .270 BA. He comes off of a junior season where he held a whopping .440 BA, .960 SLGP, and .533 OBP.
Fitzsimmons holds two Dutchmen franchise records as the leader in RBI (36) and doubles (16) in a single season. He posted a .301 batting average during his summer with the Dutchmen.
A total of six former and future Dutchmen will contribute in Ole Miss' push to Omaha: Fitzsimmons, sophomore RHP Max Cioffi ('18 Dutchmen), and four incoming 2019 Dutchmen (to be announced at a later date).