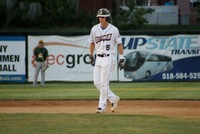 February 14th, 2019
Dutchmen alum Ernie Clement (Virginia), has been invited to join the Cleveland Indians at their Major League Baseball camp (as first reported by MLB Pipeline).
Clement was drafted in the 4th round of the 2017 MLB Draft by the Cleveland Indians. In just two seasons, he has climbed through four classes of Minor League Baseball, finishing 2018 with AA Akron Rubber Ducks.
During his two seasons in the minors, Clement has hit .286 over 147 games, starting his career at 2B and now playing SS. He is currently the 29th ranked overall prospect in the Indians' organization.
Clement came to Albany in 2014 before ever playing an inning of college ball. After graduating from Brighton High School in Rochester, NY, Ernie proved his natural abilities by hitting .315 against top level college talent, while scoring 12 runs in 19 games and striking out only twice.
His impressive contact skills would be on display over the 179 games he started over three seasons for the University of Virginia, finishing his career with only 31 strikeouts in 745 at-bats. According to a scouting video of MLB.com, "He has proven to be one of the toughest college hitters to strike out."
A NCAA College World Series Champion in 2015, Clement hit .315 in his final season (2017) with the Cavaliers, netting two home runs and 34 runs batted in.