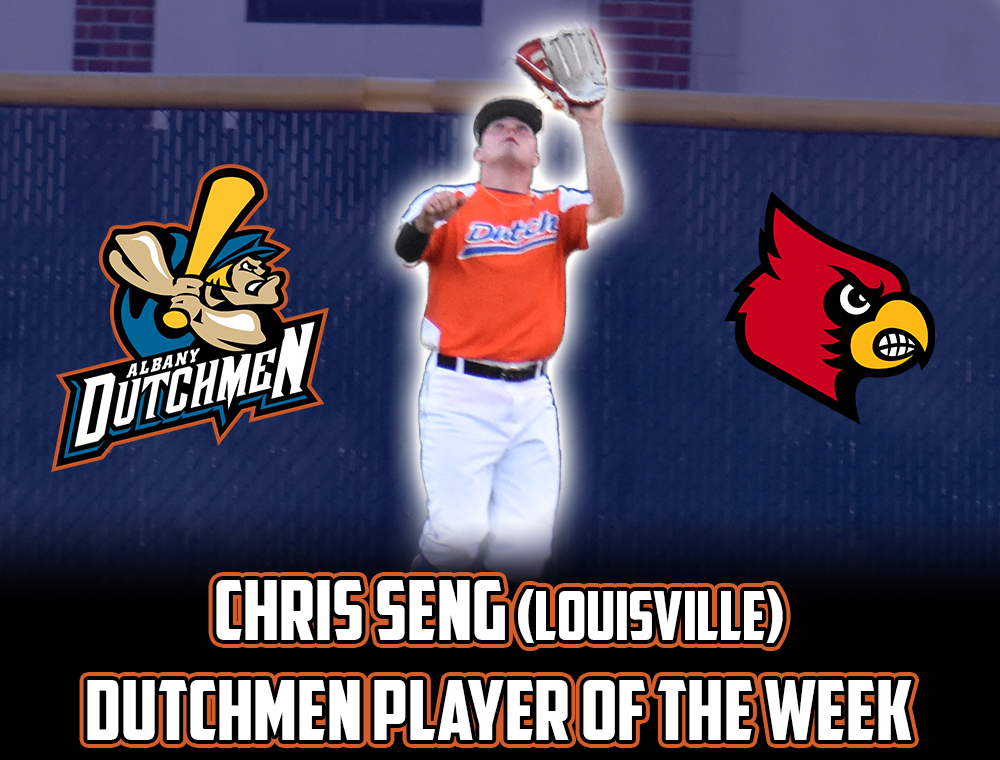 Chris Seng (Louisville) has been named the Dutchmen Player of the Week for the period from May 31st to June 9th. The Dutchmen went 3-5 over that time.
While initially starting slow, Seng has picked up his offensive production at the plate to add to his immense capabilities on the bases and in the field. The outfielder leads qualified Dutchmen batters in batting average with a .368 average. He also leads Albany in stolen bases with six and is second in RBIs with five, just behind Mike Handal's (Fairfield) six RBIs. Seng has also been consistent in the field, starting six of the eight Dutchmen games this season in center field with 16 putouts, one assist and no errors.
"I think the key for me is keeping a positive mindset and staying confident," said Seng. "Always knowing that the next game is a fresh start and a new chance to do something great is what I'm thinking."
Seng's breakthrough game came on Sunday, June 9th, against the Glens Falls Dragons. He went 4-4 with a double and an RBI against the Dragons, setting a new Dutchmen season high in total bases with five. He is the only Dutchmen to reach base safely five times in one game this season.
"We've talked a lot early on here about him not tyring to do to much in the situation or moment," said Dutchmen Head Coach Nick Davey. "At the end of the first week we saw that."
Seng's trademark characteristic is his blistering speed. Lucas Dunn (Louisville, 2018 Dutchmen) told Davey before the season that Seng is the fastest player at Louisville. Seng is tied with Rook Ellington (Kentucky) of Amsterdam in stolen bases attempts in the PGCBL this season with eight and is second behind Ellington in successful stolen bases.
"My speed is vital to my game," said Seng. "I use my speed as much as I can and try my best to help the team with it."
The Dutchmen have a very tough week coming up, including games against the top two teams in the East Division in Amsterdam and Mohawk Valley and two games against the West Division leaders in Utica. Albany also plays two doubleheaders on back-to-back days. Consistency at the plate will be key for all Dutchmen players in the upcoming week.
"I know I'm not a guy that's going to go out and hit a bunch of home runs," said Seng. "So staying true to myself by getting on base, stealing bases, and keeping a good and positive attitue will really help me stay consistent."
Seng and the Dutchmen are back in action on Wednesday, June 12th, in an exhibition game away at the Tri-City ValleyCats at 10:00 a.m. The Dutchmen return to PGCBL action on Thursday, June 13th, with a trip to Shuttleworth Park in a game against the Amsterdam Mohawks. First pitch is set for 6:45 p.m. Albany returns home to play the Oneonta Outlaws in a doubleheader on Saturday, June 15th, at Connnors Park at Siena College. First pitch for game one is set for 3:00 p.m.