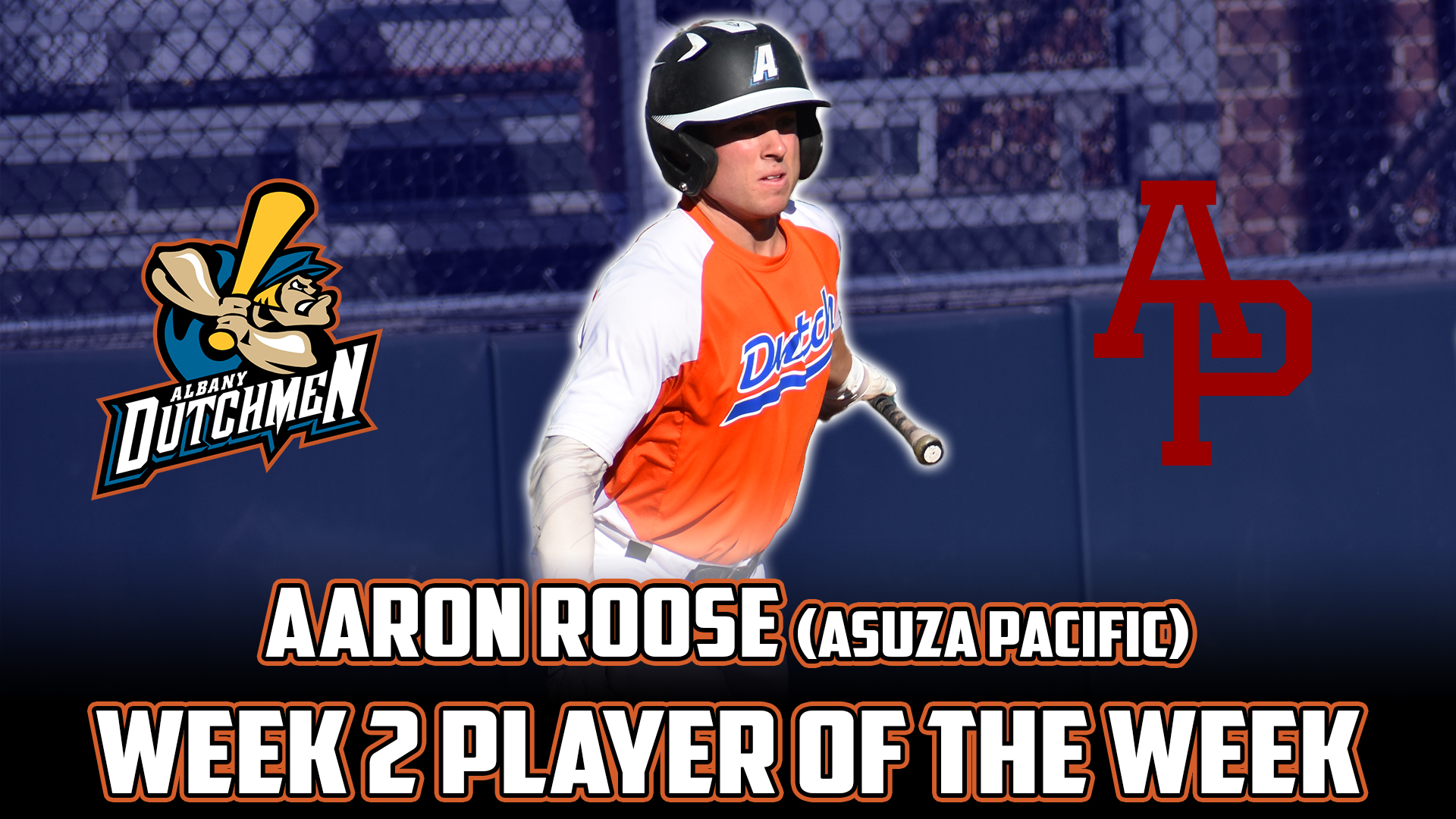 ALBANY, N.Y. – Aaron Roose (Azusa Pacific) has been named Dutchmen Player of the Week for the period between June 10th and June 16th.
Albany only played three games this past week, but Roose was a big reason why the Dutchmen won all three contests. The catcher went 5-11 at the plate, good for a .455 average, the best among the Dutchmen among that span. Roose also scored three runs and drove home two more. He's one of many Dutchmen batters who are improving as the season progresses.
"Early on in the season I feel like everyone was pressing a little bit," said Roose. "Guys are now settling into their roles."
Roose isn't just making plays with his bat. Behind the plate, Roose has called pitches for the Dutchmen pitching staff for the 24 of the 29 innings that Albany has thrown. Only five earned runs crossed the plate, which means pitchers throwing to Roose this week only recorded a 1.88 ERA. The Lancaster, California native also has nullified the running game of the Dutchmen's opponents. Over the three games, Roose has caught six baserunners stealing.
"First of all, I think our pitchers are doing a much better job of holding runners," said Roose. "Other than that, I think I'm just getting good transfers and good clean throws. It comes down to our pitchers and their time to the plate just to give me a shot."
This past week, the Dutchmen defeated the Amsterdam Mohawks on Thursday 6-5 in 15 innings, which at five hours and 14 minutes was the longest game by playing time in PGCBL history. The Dutchmen also swept the Oneonta Outlaws in a doubleheader on Saturday 6-3 in game one and 6-2 in game two.
Roose started every game for the Dutchmen in that span and has started all nine games he has featured in this season. With his excellent week, Roose raised his season average to .333, second among qualified Dutchmen hitters behind Chris Seng's (Louisville) .346 average. Roose is also tied with Seng for second on the team with five RBIs behind Mike Handal (Fairfield) and Tommy Pellis' (Seton Hill) six.
Albany's upcoming week is not easy, featuring games against second place teams Watertown and Mohawk Valley. The Dutchmen also play Glens Falls twice, a team that Albany has lost to three times this season.
"We just need to battle one-through-nine," said Roose. "I think it's all about doing the little things right."
Albany's next game is on Monday against the Watertown Rapids at the Alex T. Duffy Fairgrounds. First pitch is set for 6:15 p.m. The next Dutchmen home game is on Thursday, June 20th, against the Glens Falls Dragons. First pitch is set for 5:05 p.m. For tickets and more information, visit dutchmenbaseball.com.