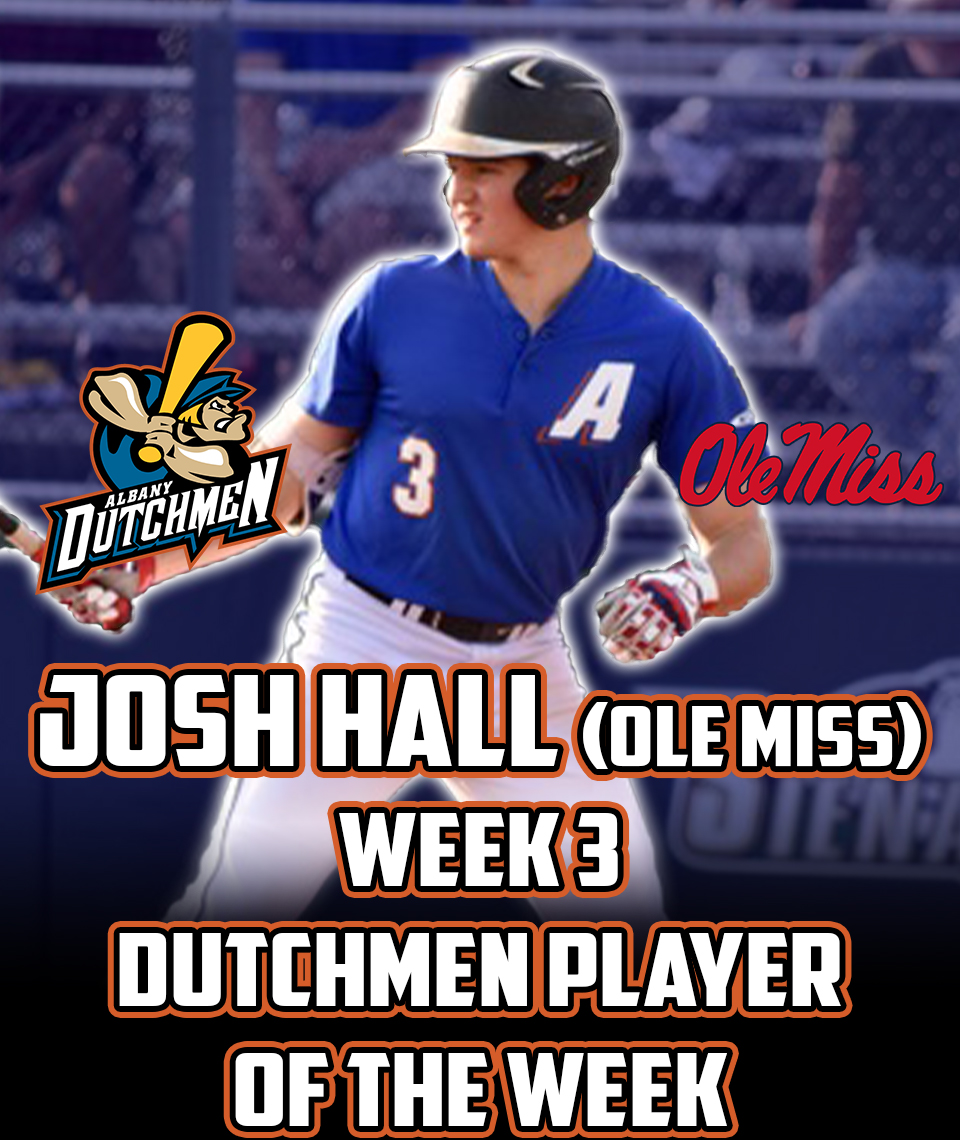 ALBANY, N.Y. – Josh Hall (Ole Miss) has been named Dutchmen Player of the Week for the period between June 17th and June 23rd.
Hall has been on fire to start his Dutchmen career. After a couple of games in week two, Hall hit .435 (10-23) in week three with three doubles, one home run, eight RBIs, and six runs scored.
"I was finding myself rolling over too many pitches," said Hall. "I've been honing in on trying to stay back and drive the ball a little more."
While Hall has produced at the plate, his impact can be felt on the base paths. Hall has seven stolen bases this season, which is already tied for second on the team. This isn't new for Hall – he holds the national high school record for career stolen bases with 224.
"His skillset is pretty impressive," said Dutchmen Head Coach Nick Davey. "His athleticism is through the roof and he puts a lot of pressure on teams."
Hall and Justin Bench (Ole Miss) joined the Dutchmen after the Rebels lost in the NCAA Super Regionals to Arkansas. However, neither were an important piece to Ole Miss' season, with Hall only recording one official at-bat in two games during the NCAA tournament.
"I'm trying to show that I'm ready to play at that level," said Hall.
The Dutchmen's upcoming schedule is not easy, with three games against the PGCBL East Division leaders in Amsterdam. Albany currently sits in second place - four games behind the Mohawks. The upcoming week provides a great opportunity for the Dutchmen to make up some ground in the race for the top spot in the East Division.
"We just need to keep doing the little things well," said Hall. "If we do that, we're gonna have a successful week.
Albany's next game is against the Amsterdam Mohawks on Tuesday, June 25th, at 6:45 p.m. at Shuttleworth Park. The next Dutchmen home game is on Thursday, June 27th, at 5:05 p.m. against the Saugerties Stallions. For tickets and more information, visit dutchmenbaseball.com.